Vice President Mike Pence is a man with a genuine Christian testimony.  I would encourage you to get the book The Faith of Mike Pence by Leslie Montgomery.  In this book, you will read how Mr. Pence came to faith in Jesus.  And, you will read how his faith helped him in governing the state of Indiana.
As a freshman congressman in 2001, Mr. Pence brought Stephen Piepgrass on to his staff as his press secretary.  This is someone who would see Mr. Pence in all types of situations and be privy to lots of inside discussions.  This is also someone who could have quickly seen hypocrisy if it existed.  Had that been the case, I doubt Mr. Piepgrass would have contributed the following to this book:
"Everything he (Mike Pence) did, all of his policy-making, was informed from his faith perspective.  It's at the core of who he is as a person.  Whatever decision he made, he wanted to make sure it was consistent with what he believed.  It was very clear.  He would not take positions that he felt were inconsistent with his core beliefs with who he was and what his faith was…As his speech writer, he would always encourage me , among other staff, to weave into whatever we were putting together for him, bits and pieces from Scripture wherever possible…And if I couldn't come up with something, he could, because he had a pretty exhaustive knowledge of Scripture."  (The Faith of Mike Pence, p. 144-5)
Such a faith doesn't make a person popular.  Fast-forward the clock to February 26, 2020.  Comedian Jimmy Kimmel mocked the faith of the Vice President when he said, "Why is Mike Pence in charge (of the COVID response team)?  What is his plan to stop the virus? Abstinence? I think Trump might be trying to kill him. I really do."  Then, there was a vulgar swipe at Pence because he stands against homosexuality.  https://www.themix.net/2020/02/jimmy-kimmel-uses-mike-pences-christian-faith-to-mock-his-ability-to-tackle-coronavirus/
On this same date, many articles started popping up over the VP leading a prayer meeting with the COVID team.  "Vice President Mike Pence received a new round of criticism this week from some on the political left after the White House released a picture of the vice president praying with the coronavirus task force in his West Wing office. 
 "…After the taskforc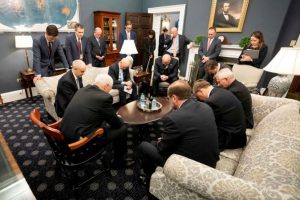 e prayer photo began circulating on social media, it didn't take long for some on the political left to mock the prayer or take offense to it.  Hemant Mehta, who writes for Patheos.com's "Friendly Atheist" blog, wrote that "it's not a joke when people say these Republicans are trying to stop a virus with prayer."
"What else did anyone expect?" Mehta asked. "Science? Reason? Something sensible? Of course not. If this virus truly becomes a pandemic, we're at the mercy of people delusional enough to think their pleas to God will fix the problem. The same God who presumably created the virus, at least in their minds, will somehow make sure it hurts only a handful of Americans … and a ton of Chinese people."
Dr. Angela Rassmussen, a virologist at Columbia University, also criticized the prayer.  "I have yet to attend a scientific meeting that begins in prayer," she wrote.   https://www.christianpost.com/news/mike-pence-mocked-for-praying-coronavirus-task-force-white-house.html
Taking a stand for Jesus puts a bullseye on your back!  And, David knew this.  In fact, he was probably more accustomed to having the bullseye on his back than not.  However, this didn't make him feel better.  Listen to his painful plea —
Psalm 4:2 –   O ye sons of men, how long will ye turn my glory into shame? how long will ye love vanity, and seek after leasing? Selah.
The lost world shames our faith, mocking and ridiculing it.  They love that which is empty, vain, and pointless.  And, they seek after "leasing" – literally, lies and falsehoods.  It seems that our world will race to and embrace lies as fact faster than anything else.  You could have nine nuggets of truth on the table and one lie and the world seems predisposed to take the lie every time!  Admittedly, this is discouraging.  But, I'm not going to leave you on a discouraging thought today.  No way!!
Psalm 4:3 says, "But know that the LORD hath set apart him that is godly for himself: the LORD will hear when I call unto him."  Not only have we been set apart BY the Lord but we have been set apart TO the Lord.   Solomon said it so poetically, "My beloved is mine, and I am his…" (Song of Solomon 2:16)
And… AND … He hears us when we call on Him.  Think about that for a moment.  We have the ear of the Creator of the Universe!
So, why do we let it get to us when the lost world mocks our faith and scoffs when we pray?  Why are we troubled when they seem to have it all when all they "have" really isn't theirs?  And, it is going to be destroyed someday.  However, every treasure we have laid in store in heaven is protected for eternity.
The world's mockery of our faith really shouldn't cause anger, resentment, retaliation, or put us on the defense.  It should cause us to pity them and to desire to show them the truth before it's too late.
May our faith shine brightly in the midst of a dark world and the distressing times in which we live.