If you were to travel to the Kennedy Space Center in Merritt, FL, you would see something absolutely massive:  the NASA Vehicle Assembly Building.  This building holds a unique record.  They have the largest doors in the world.  Each of the four doors is 456 feet high.  To put that in perspective, the Statue of Liberty is only 305 feet high.  Because of their impressive stature, the doors take 45 minutes to open or close.
A Colorado Springs military and nuclear bunker known as the Cheyenne Mountain Complex has some of the
heaviest doors.  The two doors weigh in at 25 ton and "can withstand a 30-megaton blast. To put that into perspective, 'Fat Man', the bomb dropped on Nagasaki would have to explode 1,429 times to crack the entrance."  Deep within the mountain's granite are the offices with their own air supply capable of filtering chemical, biological, and nuclear contagions.
Let's take a jolly jaunt to London, England.  From home, this is 3,848 miles east across the Atlantic Ocean.  When we
arrive, we may want to see the Bank of England's gold vault.  It is second only to the Federal Reserve in NY.  However, what makes this so impressive is the "extreme, bombproof door [that]is unlocked via a sophisticated voice recognition system, aided by multiple three-foot-long keys."  It has more floor space than London's Tower 42 which is a 47-story building!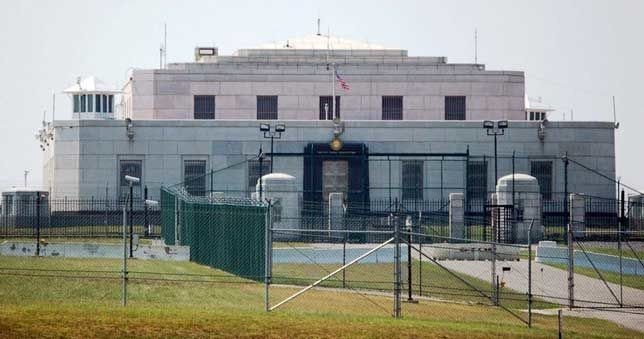 Returning to the U.S., we could go to Ft. Knox just south of Louisville, KY.  The vault is lined with granite and protected by a 24.25-ton blast-proof door.  And, get this!  Nobody is trusted with the entire combination to open the vault.  Ten members of the depository staff each have their own piece of the combination, known only to them.
One more foreign trip takes us to Casa de Nariño and the home of the President of Colombia. "The door is made from steel and is bulletproof (it will stop a Magnum 57 bullet), as well as unable to be cut through with cutting or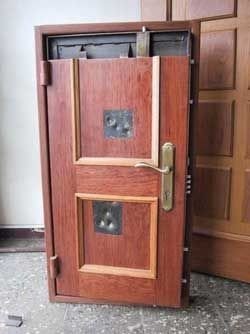 welding equipment. It is also fireproof and designed to withstand explosives! The door locks in ten places and operated via a biometric fingerprint lock, which automatically checks for blood flow to ensure the finger is attached to a living human!"  Why such extreme measures?  Just read about the drug-related crimes perpetrated by gangs and you'll have your answer.*
In the book of the Revelation, seven churches are addressed.  Of the seven, one stands out in spectacular fashion, the church of Philadelphia.
Known as the "church of brotherly love," they receive encouragement to continue what they are doing and they do not receive words of correction like the other churches.  To this church, Jesus said, "And to the angel of the church in Philadelphia write; These things saith he that is holy, he that is true, he that hath the key of David, he that openeth, and no man shutteth; and shutteth, and no man openeth;  (8)  I know thy works: behold, I have set before thee an open door, and no man can shut it: for thou hast a little strength, and hast kept my word, and hast not denied my name." (Revelation 3:7-8)
Philadelphia was a gateway city.  It served as a highway from Europe to the east.  Many people passed through Philadelphia while others stopped and made this welcoming place their home.  The city of Philadelphia served as an open door to promote Greek culture.  The church of Philadelphia wasn't going to let this opportunity slip through their fingers.  They served as an open door to evangelize the lost.
Those heavy doors we saw at the beginning of the devotional cannot be opened by sheer human strength.  Other "forces" must act upon the greatest efforts of man to get those doors moving.  Evangelism works the same way.
The greatest efforts of man cannot budge the door of the lost soul's heart.  Evangelism seminars, books, techniques, and methodology may help to prepare the Christian to witness but they never budge the heart's door open.  The Lord is the One who opens and closes doors.
It's up to Christians to be sensitive to what the Lord is doing.  If He opens the door, go through it immediately.  If He closes the door, quit beating and banging on it.  Move on!  Take a lesson from Paul in Acts 16:6-7.  He moved on when God shut the door.
Look around you.  Open doors are available.  Let's go through them while there is still time.
https://www.jbkind.com/blog/the-top-5-most-extreme-doors-in-the-world#:~:text=The%20world%E2%80%99s%20largest%20doors%20are%20reputed%20to%20be,doors%20measure%20139%20metres%20%28that%E2%80%99s%20456%20feet%29%20high.