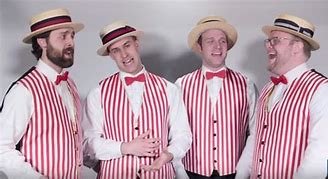 It's hard to trace the beginnings of a particular genre of music.  It seems that one style morphs over a period of time from another.  Through the years of church music, there has been the joyous singing of four-part harmony featuring a soprano, alto, tenor, and bass line.  This led to Gospel quartets forming, travelling the world with their rich tones and powerful message.
Though not Gospel by nature, by the end of the 19th c., another type of quartet began forming known as Barbershop Quartets, featuring two tenors, a baritone, and a bass.
Barbershop Quartets are different than the typical quartets in that they utilize unique, tight harmonies and a cappella singing.  The seventh note of a chord is emphasized, providing that special sound which defines the Barbershop Quartets.
If you have ever attended a performance, the Barbershop Quartets provide quite an entertaining show.  The fashions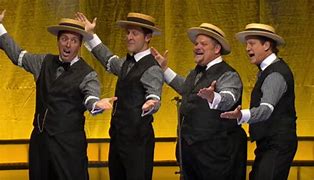 of the Quartets typically include spats, vests, and a straw hat.  You are transported back to "The Gay Nineties" and filled with a warm sense of nostalgia.
On this day in 1938 in Tulsa, OK, The Society for the Preservation and Encouragement of Barber Shop Quartet Singing in America was formed by Rupert I. Hall and Owen Clifton Cash.  Incredibly, the ability to sing was NOT a requirement to join.  "According to an article in a June 13, 1938, issue of the St. Louis Post-Dispatch, Cash was quoted as saying, 'All we ask is just that said prospective member THINK he can sing.'"*  Evidently, they provided "on-the-job training," believing they could teach anyone to sing.
Today is Sunday, the 15th Lord's Day of 2021.  As we join together, we have the opportunity to do the best and most important singing.  Psalms 100:2 tells us to, "Serve the LORD with gladness: come before his presence with singing."  In church, we get to corporately come before His presence with singing.  It's a part of our worship offered to the Lord.
Singing with worship was common and established a long time ago by the Israelites.  We read in 1 Chronicles 13:8, "And David and all Israel played before God with all their might, and with singing, and with harps, and with psalteries, and with timbrels, and with cymbals, and with trumpets."  And, in 2 Chronicles 30:21, it says, "And the children of Israel that were present at Jerusalem kept the feast of unleavened bread seven days with great gladness: and the Levites and the priests praised the LORD day by day, singing with loud instruments unto the LORD."
The worship offered to the Lord was vocal, instrumental, jubilant, and LOUD.  In church, I've often referenced our mission trip to Honduras.  The hymns were sung in Spanish and even though we knew the words in English, we had never heard the songs sung with such heart and spirit.  The look of joy of the Honduran's faces and the volume with which they sang had to reverberate in the portals of heaven.
Music isn't just something to bring us pleasure.  It was given so that we might offer it back to the Lord in worship and praise.  May this Lord's Day be filled with God's children joyfully praising Him together.
*https://nationaldaycalendar.com/days-2/national-barbershop-quartet-day-april-11/