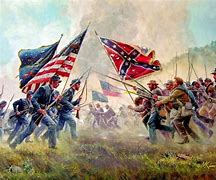 Today marks a defining part of American history.  It's the day when the American Civil War began in 1861.  Lasting four years and 27 days, it claimed more lives that all other U.S. wars combined.
"The war resulted in at least 1,030,000 casualties (3 percent of the population), including about 620,000 soldier deaths—two-thirds by disease, and 50,000 civilians.  Binghamton University historian J. David Hacker believes the number of soldier deaths was approximately 750,000, 20 percent higher than traditionally estimated, and possibly as high as 850,000."*
The Civil War was fought over the issue of slavery.  The war had many precipitating events leading to the catastrophic event that ignited the war.  As divisions grew in our small nation, states that wanted to continue practicing slavery began to secede from the Union.
At the time of the Civil War, the United States consisted of 34 states.  Two other states were admitted to the United States while the war was in progress.  Eleven states that called themselves Confederates withdrew from the Union and began to form their own government.  Five states were called "Border States" – Deleware, Maryland, Kentucky, West Virginia, and Missouri.  A Border state was a slave state that didn't want to secede.  The remaining 20 states formed the Union.
The event that started the war was when General P.G.T. Beauregard of the Confederates opened fire on the weak and poorly supplied Union-held Fort Sumter in South Carolina.   Estimates believe that during the 34 hour siege, more than 4,000 rounds of ammo and mortars were launched against Ft. Sumter.  The next day, Ft. Sumter was surrendered.  Two days later, President Lincoln called for 75,000 volunteers to form opposition forces against the "insurrection."**
I believe that slavery is morally and spiritually sin.  The Scriptures never advocate for treating someone poorly due to their ethnicity.  Jesus Himself is "no respecter of persons."  So, is there ever a time where a war is "just?"  Does the Lord acknowledge the righteousness of such divisions?
A student of the Bible knows that divisions are not the ideal desired by the Lord.  1 Corinthians 1:10 says, "Now I
beseech you, brethren, by the name of our Lord Jesus Christ, that ye all speak the same thing, and that there be no divisions among you; but that ye be perfectly joined together in the same mind and in the same judgment."  Sometimes, though, division is necessary.
We are told in 1 Corinthians 11:18-19, "For first of all, when ye come together in the church, I hear that there be divisions among you; and I partly believe it.  (19)  For there must be also heresies among you, that they which are approved may be made manifest among you."  Division lets us know where the heretics are.  It let's us know where people stand concerning God's Word.
Try to imagine the divisions that were in our nation, even long into the 20th c.  White schools and black schools.  White drinking fountains and black.  No admittance to restaurants, stores, and other establishments due to the darker pigmentation of the skin.  Contempt shown to an individual due to their skin color.  In what world would any Christian think or say this is right?!?  Yet, during the era of the Civil War, even "Christians" were divided on the issue.
As the Civil War breaks out, families were split.  Brothers were now on such opposite sides of the issue that they are shooting and killing each other.  Church members took sides against each other.   Communities turned in to war zones.
Fighting for the freedom of the enslaved was and is just.  Sometimes, such division and drastic actions are necessary to bring about the change for what is right.  In a letter written to Henry Pierce on April 6, 1859, Abraham Lincoln wrote, "Those who deny freedom to others deserve it not for themselves; and, under a just God, cannot long retain it."
As Christians, may it be said that we love people with the love of God and see people as those created in the image of God.  May we remember that there is ONE race of people.  All had their beginnings from Adam and Eve and Adam's sin passed upon all, making us EQUAL in all things, including our sinfulness and need of the Savior, Jesus Christ.
* https://en.wikipedia.org/wiki/American_Civil_War
** https://www.history.com/this-day-in-history/the-civil-war-begins