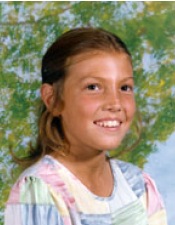 The lives of some are so filled with multiple tragedies that you wonder how they could ever survive.  Such is the case for a woman named Candace.
Candace Dodderidge was born in 1946 in California.  She married a U.S. Air Force Officer named Steve Lightner.  In 1967, twins Cari and Serena were born.  In 1971, along comes a boy they named Travis.  Sometime after this, Steve and Candace divorced and Candance moved with the children to Fair Oaks, CA where she started selling real estate.
The worst tragedies are yet to be told.
In 1969 when Serena is just 18 months old, a drunk driver slammed into the back of Candace's car, bruising Serena and covering her with glass that had cut her and left her bloody.  Both survived and healed from the crash.
Six years later, it was 1975 and Travis was four years old.  He was playing in the front yard of their house when a car came barreling into the yard, running over him.  He "suffered a collapsed lung, broken ribs, a broken leg, and a fractured skull. He spent several days slipping in and out of a coma and required surgery multiple times to repair damage to his body. His head injury caused permanent brain damage."1  The driver of the vehicle was unlicensed and full of tranquilizers.  However, they never received so much as a ticket.
On May 3, 1980, 13-year-old Cari is walking in their quiet neighborhood, heading to a church carnival with a friend.  Two days earlier, Clarence Busch had made bail after his fourth intoxicated driving conviction.  This last conviction was a hit-and-run.  Today, Clarence is going to make it five convictions.
Clarence hit Cari from behind with a force so hard that it knocked her shoes off, threw her 125 feet, and mangled her body to the point of making it impossible to donate her organs.  Again, Clarence "did not stop to render aid, nor did he tell anyone of his actions when he returned home. He did tell his wife "not to look at the car" before passing out drunk. She ignored him, looked at the car, and the rest is history."2
Days later, a highway patrolman was sharing the details of what happened with Candace.  A mother's overwhelming
grief turned into rage when the officer said that it was doubtful Clarence would see any significant time behind bars (he eventually would serve only 21 months).
Sharing this news with some friends, Candace angrily declared, "I'm going to start an organization because people need to know about this!"3  Candace had every right to be mad.  One of the friends had a perfect name for the organization:  MADD.  Mother's Against Drunk Driving.  The tragedies experienced by one mother could have shut her down.  Instead, it translated into an action that would help and continues to help millions of parents.  And, in 1982, President Ronald Reagan asked Candance to be a part of the National Commission on Drunk Driving.
A couple of Biblical principles struck me as I studied the details of this event.  First, we have those familiar verses found in Romans 8:28, "And we know that all things work together for good to them that love God, to them who are the called according to his purpose."  I do not know Lightner's spiritual condition but I do know that God worked good out of a tragic situation.
The verse does not say that all things are good.  What happened to this family was not good.  But God worked it out for good.  He brought good out of the tragedy.  While a family suffers and one has died, how many more families and individuals have been spared from such heartache because of the actions this mother took?
The second thought is found in 2 Corinthians 1:3-4.  "Blessed be God, even the Father of our Lord Jesus Christ, the Father of mercies, and the God of all comfort;  (4)  Who comforteth us in all our tribulation, that we may be able to comfort them which are in any trouble, by the comfort wherewith we ourselves are comforted of God."
It's very easy to allow the pain of great suffering to cause us to shrink away from others.  Talking stirs up emotions and memories and these turn to a reignited grief.  However, Candace didn't do that.  She took what had happened and sought to use the experience to comfort and help others.

You may be going through something today.  Grief and sadness may have a stranglehold on your heart.  I would never deny or minimize your grief.  I know it's real and painful.  All I ask is that you take hope and comfort, knowing that God will bring good out of this – someway, some day.  Use your experience and the comfort God is giving you to be a help to others.
It's okay to break down and cry.  Real hurts are a help in the healing.
1https://www.encyclopedia.com/history/encyclopedias-almanacs-transcripts-and-maps/candy-lightner
2 https://wesavelives.org/caris-story/
3 https://www.encyclopedia.com/history/encyclopedias-almanacs-transcripts-and-maps/candy-lightner