Harold Nathan Braunhut was a Jewish man born in Memphis, Tennessee on March 31, 1926.  Shortly after his birth, his family moved to NYC, clinging to their Jewish roots and finding many Jews in the city.  However, as Harold grew up, he passionately distanced himself from his Jewish heritage, changing his name to Harold von Braunhut to give his name a distinctly German flavor.
Shockingly, Harold associated himself with white supremacist groups such as the KKK and regularly attended the annual Aryan Nation's Conference.1  Either they didn't realize he was a Jew or they didn't mind a "defector," Harold was welcomed in to the organizations.  Thankfully, we don't remember Harold for this.  What we do remember him for, though, is his multiple shady business ventures that gained him an impressive wealth.
During the early 1960s, comic books were a popular purchase for young boys (and a few girls) whose allowance and birthday money was burning a hole in their pocket.  Tucked away in the comics were advertisements appealing to the young buyer, promising them adventure and things that intrigued their impressionable minds.  Braunhut knew this was a slick promotional opportunity so he purchased 3.2 million comic book advertising pages per year and began bilking kids (and parents) out of their money.2
Crazy Crabs – from a picture of an actual ad, it said, "A friends AIR-BREATHING "Crazy Crab" is the most amazing pet you'll ever own!  As gentle as a pussycat, it lives on LAND instead of water, DOES NOT BITE unless mishandled, and quickly gets to know its owner!…A truly INTELLIGENT pet…It loves to be touched and petted and enjoys running from hand to hand, swinging from your fingers or just cuddling on your shoulder like an adorable tame parrot.  But that's just the START of the FUN that awaits you!"
This was nothing more than a hermit crab but you could have yours for the low, low price of $2.98 plus 52¢ postage.  Extra "playshells" could be purchased for 75¢ each.
X-Ray Specs – "A hilarious optical illusion.  Scientific optical principle really works.  Imagine – you put on the "X-Ray" specs and hold your hand in front of you.  You seem to be able to look right through the flesh and see the bones underneath.  Look at your friend.  Is that really his body you "see" under his clothes?  Loads of laughs and fun at parties."  This gimmick sold for $1.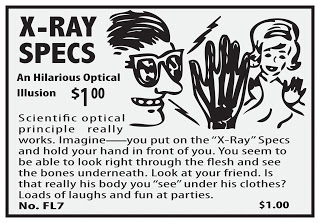 Sea-Monkeys – "Own a bowlfull of happiness – Instant pets!  Just add water – that's all!  In ONE SECOND your amazing sea monkeys actually come to life!  Yes, they hatch instantly, right before your eyes.  Now, simply grow and enjoy the most adorable pets ever to bring smiles, laughter and fun into your home.  So eage
r to please, they can even be trained."
Who wouldn't want something like that?!?  And, all of this comes directly to your door and a FREE one-year supply of everything you'll need for only $1.25 plus 50¢ S/H.  You even get their famous GROWTH GUARANTEE IN WRITING.3  (the caps and bold print are the way it reads in the ads)
As I read these, the verse of Scripture that the Lord brought to mind was 2 Peter 2:1-3.  "But there were false prophets also among the people, even as there shall be false teachers among you, who privily shall bring in damnable heresies, even denying the Lord that bought them, and bring upon themselves swift destruction.  (2)  And many shall follow their pernicious ways; by reason of whom the way of truth shall be evil spoken of.  (3)  And through covetousness shall they with feigned words make merchandise of you: whose judgment now of a long time lingereth not, and their damnation slumbereth not."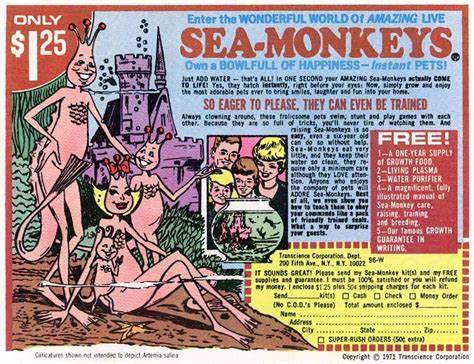 Harold falsely represented himself.  He denied his ethnicity and hid his allegiances.  All of this was done to sell merchandise.  And that which was sold was misrepresented.  Sea monkeys are nothing more than brine shrimp.  X-ray glasses only provided the illusion of seeing through objects – maybe .  And, crazy crabs were just your ordinary hermit crabs that you can buy in any local pet stores.
Preying on the weak minded, taking their money in order to make yourself rich is despicable.  Doing it in the name of Jesus is blasphemous and egregious beyond words!
The Lord warns that in the last days, such hucksters would abound.  We should not be surprised.  Instead, we need to sound the alarm when such individuals arise.  Though many will not listen, we still have to give the warning.
Don't be fooled, dear believer.  Stay alert in these perilous times.
1 https://en.wikipedia.org/wiki/Harold_von_Braunhut
2 https://en.wikipedia.org/wiki/Sea-Monkeys
 3 https://www.theawl.com/2011/06/the-shocking-true-tale-of-the-mad-genius-who-invented-sea-monkeys/