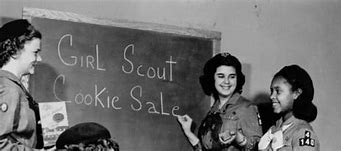 Take a moment and transport yourself ahead to the spring of 2022.  There will be a sight as customary as the trees budding, flowers blooming, and the birds singing.  It will be the Girl Scouts pedaling their cookies for another year.  Tables will be set up at WalMart and other places around town, loaded with product.  And the entrepreneurial Girl Scout (or their parent) will have an order sheet with them wherever they go to take your orders, promising delivery at another time.
Who can blame them?  In just six to eight weeks, 200 million boxes of cookies will be sold.  That equals $800 million in revenue.1  And who can resist the doe-eyed girls begging you to buy their twelve different types of cookies?  Their excited appeals to buy cookies leaves only the heartless empty-handed.  The rest of us walk away with our favorites:  Tag-a-longs, Thin Mints, Samoas, Do-Si-Dos, or Lemon Ups.
Since 1917, Girl Scout cookies have been sold.  However, WWII brought about the Great Girl Scout Cookie Shortage.  Throughout the United States in 1943, the message was sounded loud and clear.  "Hitler has cost America its favorite cookie."2
Whenever there is a war, supplies are going to be diminished even though demand is high.  The war efforts diverted the energy and resources to supplying the troops.  Some raw resources were unavailable or in short supply.  Getting materials to the bakeries producing Girl Scout cookies was not a priority.  Americans would just have to suffer.
The cookie shortage lasted until 1945.  By 1946, production was back up to full capacity and the business keeps growing every year.
If only a cookie shortage was the worst of humanity's worries!
Famines have been around for a long time.  The first one was recorded in Genesis 12:10.  "And there was a famine in the land: and Abram went down into Egypt to sojourn there; for the famine was grievous in the land."  Today, famines are prevalent as well.
According to Pakistan Perspective, famines are in "Yemen, Afghanistan, South Sudan, Ethiopia, Nigeria, Congo, and many others. According to the World Food Program (WFP), more than 270 million people in 20 countries are on the brink of famine. Two-thirds of Yemen's 28 million people are starving. A recent survey found a 15.5 percent increase in severe malnutrition this year, with at least 98,000 children dying."3
While these numbers are horrific, there is another kind of famine sweeping the world, affecting a large percentage of the 7.8 billion population.  In Amos 8:11, we read, "Behold, the days come, saith the Lord GOD, that I will send a famine in the land, not a famine of bread, nor a thirst for water, but of hearing the words of the LORD."
It is Sunday and people will gather in churches all across the world.  How many will actually hear the Word of God taught in its fulness and without redaction or correction?  And how many more will not attend church at all, choosing the comforts of the bed or the pleasures of this life instead of setting aside the first day of the week for worship?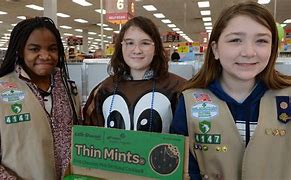 Amos didn't say that there was going to be a famine of HAVING the Word of the Lord.  It was a famine of HEARING the Word of the Lord.  Even though the Bible is still the best-selling Book ever written, with over 5 billion copies having been sold4, there is still a famine of hearing it.
May it never be said that we starve ourselves of the hearing and reading of God's Word.
1https://www.foxbusiness.com/lifestyle/girl-scout-cookies-what-to-know
2https://www.mentalfloss.com/article/92979/great-girl-scout-cookie-shortage-world-war-ii
3https://pakistanperspectives.com/famines-in-the-world-today/
4https://www.alltopeverything.com/top-10-best-selling-books-of-all-time/