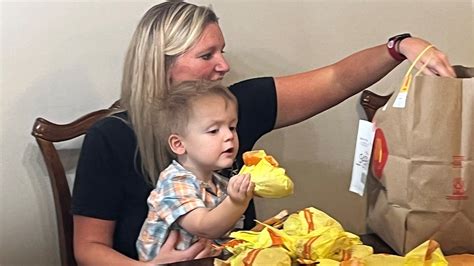 Barrett Golden of Ricardo, Texas must have been hungry.  He got on the phone and used the DoorDash app to order a cheeseburger – 31 cheeseburgers, to be exact.  They arrived at his home right on time at the cost of $61.58.  He even generously tipped the driver $16 dollars – a 26% tip.  Add on the DoorDash fees and the grand total for 31 cheeseburgers was $91.70.
No offense to McDonald's but that is nearly $3 per cheeseburger – the cheeseburgers that are on the DOLLAR menu.  Those burgers are barely worth a dollar.  They are more bun and condiments than meat and cheese.  Why didn't Barrett just drive to his nearest McDonald's?  It is only five miles from his house!
Maybe it's because Barrett is only two years old!
Barrett's mom, Kelsey, had an unlocked cell phone.  Barrett found the phone and placed his order.  Kelsey had no idea what had happened until a DoorDash delivery guy knocked at her door.  She knew that Barrett had the phone but thought he was just taking pictures.  Instead, he was rustlin' up some grub!
Kelsey could have had multiple reactions to this.  She could have exploded on Barrett.  She could have angrily called McDonald's and asked them if it didn't seem a bit odd to get such an order.  Maybe they should have verified it.  She could have posed the same question to DoorDash.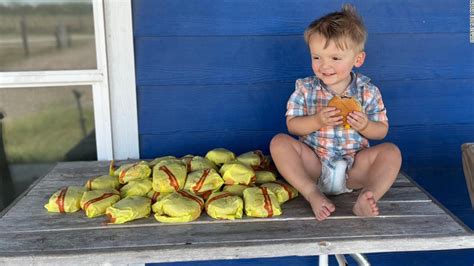 Instead, she took it in stride and with a smile and laughter.  She recorded video of opening the bag with Barrett and counting out the burgers.  Barrett was only able to eat a half of one.  What is she going to do with 30 more cheeseburgers?  To solve the problem, she posted a community notice on Facebook, asking people to drop by for a burger.  A few neighbors took her up on the offer and stopped in for a burger and one of the best stories they had ever heard.
Perhaps as you read this, you can think of a few ways to reprimand Barrett.  You would like to tell the mother that it's her own fault.  All sorts of self-righteous, indignant comments arise from a dark place within and breach the guard of our lips.
Nothing in this story was done with malicious intent. Even if it had been, the mother could have still responded righteously.  Granted, I don't know Kelsey's spiritual condition but she demonstrated a key verse from the life of Joseph in the book of Genesis.
After all the years that had passed from the time Joseph was sold into slavery by his brothers to the time the brothers came looking for food in Egypt, Joseph had ample opportunity to grow angry and bitter and to plot his revenge.  Instead, think about what Joseph said to them in Genesis 50:19-20.  "And Joseph said unto them, Fear not: for am I in the place of God?  (20)  But as for you, ye thought evil against me; but God meant it unto good, to bring to pass, as it is this day, to save much people alive."
Joseph was able to take a horrendous negative and turn it to a positive once he put it in God-terms.  Nothing that was done to him by his brothers or the multitude of slave traders or even things that had happened in his time in Egypt were good.  But God had allowed it to happen and it's up to Joseph to get on board with God's plan.
Kelsey was able to make a fun memory with Barrett.  She has a great story to share with Barrett's children someday.  She was able to bless some people with a burger, show them hospitality, and give them a laugh to brighten their day.  All of this for only $91.70.  We typically spend a lot more on other things and get a lot less!
I would say Kelsey got a bargain in her bagful of burgers!