Here we are in mid-January, a little bored with the season, and wondering what to do.  Here's a thought.  Start doing some reading and collect equipment to create your own sugarhouse.  Then, from mid-February until mid-March, you can tap some maple trees and make your own maple syrup.  But be ready.  It's going to take a lot of work.
When temperatures are below freezing at night and above freezing during the day, maple trees are ready for tapping.  The sap has begun to flow, nourishing the buds that will soon emerge.  Don't worry.  Even though you will need to collect 40 gallons of sap in order to get one gallon of syrup, there is still plenty of sap left to supply the tree.
And don't be in a hurry to get the sap.  Depending on the number of trees tapped, getting 40 gallons could take about a week.
As it is, the sap of the maple tree is clear and edible, possessing a very mild sweetness.  However, you don't want to
settle for that!  You want the delicious goodness that makes your pancakes beg for more.  To get this sweet treat, you gotta turn up the heat!
Maple sap is 98% water and 2% sugar.  You will have to slowly boil off most of the water which will take approximately 8 hours of carefully monitoring the temperature so as not to burn the sap.  Due to the excessive amount of steam produced, you will want to do this over a campfire or using a propane burner outside.
As the process nears completion, the syrup takes on the brown, caramelized coloring.
Once it is strained to removed sugar sediment, it is ready to be bottled.  Having no chemicals and processed naturally, it can remain unrefrigerated and has a long shelf life.  All that's left to do is make a short stack or a few waffles and enjoy the sweet fruits of your labor.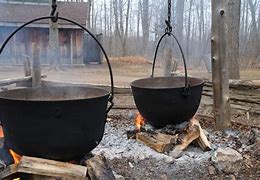 My study of this process left me with a lot of questions.  How did anyone discover this?  What possessed someone to think that the fluid oozing from a tree would be worth tasting, much less putting on food?  What made them think that the clear liquid coming from the tree could be boiled, turning it brown, and changing the entire flavor, consistency, and texture of the original product?  Was this discovered accidently or intentionally?
While I have no answers to these questions, I can make one observation as it applies to the Christian life.  You and I are just a bunch of "saps" and God has to turn the heat up to extract the sweetness in our life.  Not to worry, though.  God will never "cook" us too long so that we get burned.  He knows just the right temperatures to bring our lives to the proper boil.
Peter and Job knew this truth.  "Wherein ye greatly rejoice, though now for a season, if need be, ye are in heaviness through manifold temptations:  (7)  That the trial of your faith, being much more precious than of gold that perisheth, though it be tried with fire, might be found unto praise and honour and glory at the appearing of Jesus Christ… Beloved, think it not strange concerning the fiery trial which is to try you, as though some strange thing happened unto you." (1 Peter 1:6-7; 4:12)  "But he knoweth the way that I take: when he hath tried me, I shall come forth as gold."  (Job 23:10)
Just as it takes a long time for sap to become sweet syrup, it tends to take a long time for God's saps to become sweet.  That's okay.  God's in no hurry to remove us from the heat.  He patiently tends the fire, stoking it when necessary.  We are removed from the heat when He says we are ready, only to be placed back in the fire for continued refining.
The long process of refining sap to syrup is worth it.  How much more is it worth it to be in God's sugarhouse?