We are continuing our devotional series, looking at some theology found on church signs.  Sometimes, those short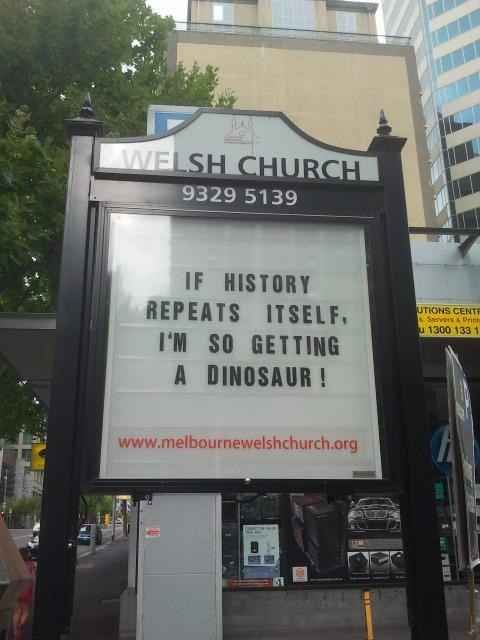 and pithy marquee messages pack a wallop!  They are "punny" yet potent.  A few signs even convey a wrong message which becomes a message in itself.   This opening paragraph and little disclaimer will accompany each devotional:  The use of the church sign's message in no wise constitutes an endorsement of the church or denomination.  With that in mind…
Genesis 1:1 says, "In the beginning God created the heaven and the earth."  On day six, we are told, "And God said, Let the earth bring forth the living creature after his kind, cattle, and creeping thing, and beast of the earth after his kind: and it was so.  (25)  And God made the beast of the earth after his kind, and cattle after their kind, and every thing that creepeth upon the earth after his kind: and God saw that it was good." (Genesis 1:24-25)
The first sign dealing with creation that was on a church sign said:  "If history repeats itself, I am so getting a
 dinosaur!"  Wouldn't it be interesting to go back to those days of creation and see all the things God created?  We would be able to walk with the animals, including dinosaurs, without fear of them licking their lips as they prepared to devour us.  What an amazing world God made!  Which dinosaur would you pick for a pet?
"God recycles. He made you from dust."  Genesis 2:7 reminds us, "And the LORD God formed man of the dust of the ground, and breathed into his nostrils the breath of life; and man became a living soul."  At the pinnacle of God's creation was humanity.  Do you suppose that if it had been up to you or I, we might have used more pricey or stylish components to create man?  Instead, God scooped up some dirt to create us, just as He did everything else (Genesis 1:20-25; 2:19).  However, man received one significant thing.  Into his nostrils, God breathed the breath of life.  God imparted Himself to man.  Man got a soul!
"God's garden.  Lettuce be kind.  Squash gossip.  And, turnip for church."  I admit – that's "corny."  But we know the story how God created this wonderful Garden of Eden in which the animals, plants, and the first of humanity were able to roam freely – and completely nude which means that poison ivy, oak, and sumac didn't exist!
How generous of God to have made this wonderful place for His creation to live!  It must have been magnificent.
"God made the world.  He gets to make the rules."  In fact, there was really only one rule.  Everything else spoken to Adam would be more instructive.  The rule was this: "But of the tree of the knowledge of good and evil, thou shalt not eat of it: for in the day that thou eatest thereof thou shalt surely die." (Genesis 2:17).  How hard is that?!?  Adam, Eve – you have only one rule.  You can eat everything else that you want but don't eat of that tree.
"Adam and Eve. The first people to not read the apple terms and conditions."  Apple has been a tech giant for many years.  With every device comes their "terms and conditions."  You know – it's that series of digitally transcribed pages that will inform you of your responsibilities as well as Apple's.  At the bottom, you click that you have read and agree to their terms and conditions.  You click it – but did you really read it?  Most likely, not even the first paragraph.  It's a bunch of confusing legalese!
Adam and Eve cannot claim ignorance.  They knew God's instructions yet chose to ignore them.  Through Adam's sin, death entered this world.  Spiritual death occurred immediately.  The process of physical death began.  And the need for the Savior became the need for all who would come after Adam and Eve, including them.
By the way, the Bible does NOT say that Adam and Eve bit into an apple.  The apple has just been the traditional fruit chosen to represent the fruit of that forbidden tree.  We don't know what the fruit actually was.  We will have to ask the Lord about that some day!
"What did Adam say to Eve?  I'll wear the plants in the family."  Though a humorous play on words, Adam knew immediately the shame of sin.  The awareness of nakedness became the immediate signal that they needed to cover up!  Eve pulled out needle and thread and began sewing fig leaves together, making "aprons" to cover themselves.
When God stepped in and confronted them of their sin, it to the sacrifice of one of those original beautiful animals that Adam had named to provide the skins God would use to cover them.  All of this pointed to the day when the Blood of the Perfect Lamb of God would be shed to cover our sins.
Many lessons can be learned from this first Garden.  The book of beginnings is the beginning of our understanding of God's love.