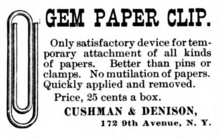 On April 23, 1867, U.S. patent number 64,008 was awarded to Samuel B. Fay.  He had invented a clip that attached paper tickets to fabric.  While his product really didn't catch on, it helped others to explore new possibilities.  One such company was The Gem Manufacturing Company in Britain.
By the early 1870s, the closest version to the modern-day paper clip was in production, although it has never received a patent to this day.  Instead, the wire bending machine that makes paper clips was invented and patented in 1899.
Most of us don't give a second thought about paper clips.  They serve their official office purpose and so long as we don't bend them out of shape too much, we are able to reuse them often.  However, if you are an artist, you see something far more than a paper clip.
Pietro D'Angelo was born in Palmermo, Italy in 1974.  In 2005, he graduated at the Academy of Fine Arts of Bologna in the sculpture department with the highest score possible.  One of the mediums of art that he uses is the paper clip, creating amazing life-size sculptures using 10,000-12,000 stainless steel paper clips for each creation.  Each masterpiece takes two-three months to complete.  At the bottom of this devotional, you can see one of his sculptures.  https://www.artpeoplegallery.com/paper-clip-sculptures-pietro-dangelo/
A single paper clip can accomplish quite a bit.  Several pieces of paper can be held together in organized fashion.  We can unbend it and use one prong to reset electronic devices.  Christmas ornaments and other decorations can be hung we these.  Supposedly, we can use it to pick locks or handcuffs.  Disclaimer:  I have never done either one! 
The uses of the single paper clip are limited only by our imagination.  But when you put several thousand together in the hands of an artist, you are left with something breathtaking and amazing.
We are reminded in 1 Corinthians 12:18-20, "But now hath God set the members every one of them in the body, as it hath pleased him.  (19)  And if they were all one member, where were the body?  (20)  But now are they many members, yet but one body."  To keep the analogy going, we are many paper clips but one sculpture.  And, the artist is God.
As an individual "paper clip," I am useful to the Lord and humbled to be used.  When we work together in the church and function as God intended, we get to be used to create the "big picture" of God's work.
When people go to D'Angelo's exhibits, they don't compliment the paper clips.  Those little office supply products don't receive awards and praise.  The artist gets all the praise.
"Thou art worthy, O Lord, to receive glory and honour and power: for thou hast created all things, and for thy pleasure they are and were created."  (Revelation 4:11)  Whatever good we accomplish individually or collectively for the Lord, WE do not deserve the credit.  God deserves it all.
It is wonderful to think that the Lord can take something so basic and simple as you and I and create a work of art.  To God be the glory for the things He hath done!