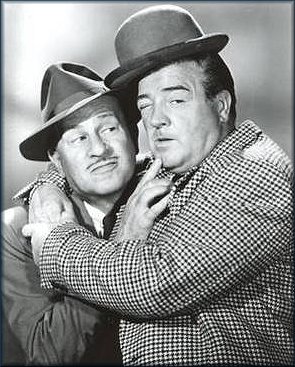 Louis Francis Cristillo and William Alexander Abbott are two men who filled the airwaves with comedy in the early to mid-1900s.  Better known as Abbott and Costello, this duo found initial popularity during the Golden Age of radio, getting their break on The Kate Smith Hour.
In 1940, these men tested the waters of television, signing with Universal Pictures.  It must have been successful because from 1940-1956, Abbott and Costello made 36 movies. Though not their first movie, Buck Privates was the one that pushed their fame to the top.
For those who are too young, they may think that they've never heard of this comedic pair.  However, Abbott and Costello's famous routine, Who's On First? has been copied by many, replayed thousands of times, and is on a continuous loop in the Baseball Hall of Fame.
For their time period, they were the definition of success.  During WWII, they were among the highest paid actors.  Due to their status, in 1942, they were able to sell $85 million in war bonds.  Both men have three stars on the Hollywood walk of fame, one each for their work on radio, motion pictures, and television.
Memorable antics and routines defined them.  Through their work, they made millions of people laugh and forget their troubles, if only for a couple of hours.  However, this was a façade, a thin veneer that masked the truth.
Both men had health issues.  Funny man Costello suffered bouts with rheumatic fever that affected his heart.  Abbott had epilepsy and suffered numerous strokes.
Ego and greed tore at their relationship.  Clamoring for top billing, teetering between a 60-40 split on compensation, and easily hurt feelings kept these two men bickering and pouting through most of their work relationship.
Financial woes were created and assets burned through because the men were serious gamblers and free spenders.  The IRS likes to get their money and Abbott and Costello were substantially behind in paying their taxes.  Most assets had to be sold along with rights to their movies just to pay the bills.
Abbott put a strain on their relationship because of his alcohol use and abuse.
In 1943, Costello returned to work after a six-month recuperation from another bout of rheumatic fever.  Upon arriving at NBC Studios, he received word that his infant son, two days short of his first birthday, had drowned in the family pool.  As they say, the show must go on, and the live radio broadcast took place before a studio audience.
Costello died at the age of 52 while in the hospital after a heart attack.  Abbott died at the age of 76 from cancer, penniless, and in a nursing home.  Worst of all, neither man gave any indication of having a relationship with God through Jesus Christ.
There is a difference between "playing the fool" and being the fool.  In one of the Lord's parables, Jesus said, "… The ground of a certain rich man brought forth plentifully:  (17)  And he thought within himself, saying, What shall I do, because I have no room where to bestow my fruits?  (18)  And he said, This will I do: I will pull down my barns, and build greater; and there will I bestow all my fruits and my goods.  (19)  And I will say to my soul, Soul, thou hast much goods laid up for many years; take thine ease, eat, drink, and be merry.  (20)  But God said unto him, Thou fool, this night thy soul shall be required of thee: then whose shall those things be, which thou hast provided?  (21)  So is he that layeth up treasure for himself, and is not rich toward God." (Luke 12:16-21)
Our world is full of people like this, living a life of duplicity.  The outward persona is one of life, happiness, and success.  Inwardly, though, is a person spiritually dying, lonely, and sad.  They are not "rich toward God."  The comedy could just be a cover-up and a cry for help.  Instead of playing the fool, they really are the fool.
Christians need to be living lives that show what real joy and happiness looks like.  What we have is far better than anything this world has to offer.  We have a relationship with the Creator of the Universe!  And, we have an eternal home waiting for us in heaven, provided for us and paid in full by the blood of Jesus Christ.
Today, listen for someone's soft cry for help and come to their rescue.  Bring them to Jesus before it's eternally too late.  There's no comedy and laughter in hell.  Only unending sorrow and torment.