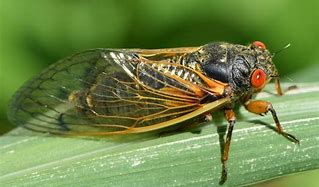 An invasion is coming!  No, it's not extraterrestrials.  It's not an invading army – that we know of.  It's the predicted invasion of the cicadas, nature's noisy insects.  By now, it's quite possible you are aware of their presence.
Over 3,000 species of this insect exist.  Every year, we see their exuvia (the exoskeletons) still clinging to a tree after they moult, giving us an idea of how they look.
Their songs in the night can be beautiful or horrendous, depending on the size of the choir.  When hundreds join together in chorus, they can reach 120 decibels, the equivalent of a jet engine.  The noise is sufficient to drive humans into their homes and it disorients their biggest predators – birds.1
When we see the cicadas, we are seeing the adults.  They mate and the females will then cut an area in the bark of a tree where they will lay their eggs.  When the eggs hatch, the nymphs fall to the ground and begin burrowing tunnels up to 8 feet deep.  Here, they will live off the sap found in tree roots while they develop.
The invasion scientists are warning about concerns the species of cicadas who have been in the ground 17 years.  Known as Brood X (a.k.a. The Great Eastern Brood), they are in addition to the normal yearly emergence of cicadas.  Every 17 years, Brood X emerges from the ground.  The same thing happened with this brood in 2004 and 1987.   The affected areas are "parts of Delaware, Georgia, Illinois, Indiana, Kentucky, Maryland, Michigan, North Carolina, New Jersey, New York, Ohio, Pennsylvania, Tennessee, Virginia, West Virginia, and Washington D.C."2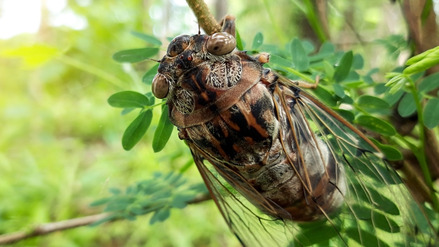 Besides the noise and the nuisance of an abundance of exoskeletons on the ground, the cicadas are really quite harmless – unless you're a young fruit tree!3  They leave most other plants alone.  They are non-toxic and can be eaten in small quantities by your pets, however, it's suggested that you keep the pets away because choking can occur on the cicada's wings, legs, and hard shell.  If you are a survivalist, I have good news.  Bon Appetit!  Yes, humans can consume them as well.
Some of you are itching right now just thinking about this.  Bugs make your skin crawl.  But did you realize that our Bible is a little "buggy?"  Numerous bugs and insects are mentioned in the Scripture to give us life lessons.
Proverbs 30:25 – "The ants are a people not strong, yet they prepare their meat in the summer."  The ant is used to teach us about being industrious, making preparation for the future without procrastination.
Proverbs 30:27 – "The locusts have no king, yet go they forth all of them by bands."  Locusts and cicadas are not the same insect yet they are often confused.  Locust are dangerous to crops and will decimate whole fields.  God uses them as instruments of judgment.  However, remember that they also provided a hearty protein-rich meal for people like John the Baptist!
Proverbs 30:28 – "The spider taketh hold with her hands, and is in kings' palaces."  Oh, that itsy-bitsy spider.  She climbs up the waterspout of the rich and the poor.  However, the Scriptures use the fragility of the spider's web to show us how futile hope is apart from God.
Matthew 6:19 – "Lay not up for yourselves treasures upon earth, where moth and rust doth corrupt, and where thieves break through and steal."  Moths are used to remind us that our earthly treasures are destined for corruption and destruction.  As easily as a moth can eat through a fine piece of clothing, turning it into swiss cheese, so can holes be eaten into anything we hold dear in this life.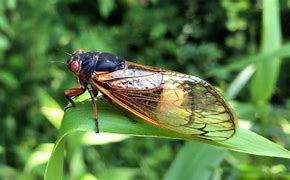 Ecclesiastes 10:1-  "Dead flies cause the ointment of the apothecary to send forth a stinking savour: so doth a little folly him that is in reputation for wisdom and honour."  Flies symbolize sin and its affects.  The month of June has an abundance of flies, doesn't it?
As the song of the cicada fills the air, let that encourage you to keep reading and find more bugs in the Bible.  God puts the little insects there for a reason, just as He put them in our world for a reason.  See how many bugs you can find in the Bible.
1 https://en.wikipedia.org/wiki/Cicada
2www.grunge.com/381574/everything-you-need-to-know-about-cicada-invasions/?utm_campaign=clip
3 https://www.cbsnews.com/news/what-is-brood-x-us-cicada-infestation-coming-in-2021/