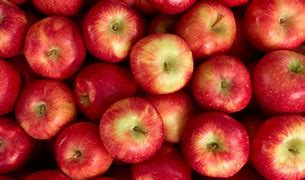 This time of the year brings back some really nice memories that all revolve around America's favorite fruit, the apple.  Golden spy, red delicious, honey crisp, ambrosia – there are 7500 varieties of apples with 2500 of them grown in the USA.  While I don't remember what mom's favorite variety was, I do remember the yearly trip to Rau's Orchard to pick up several bushel.  And, then the joys began!
Apple pie, apple crisp, apple cobbler, apple dumplings,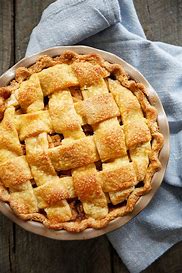 Dutch apple cream cheese pies, and applesauce were just a few of the specialties coming out of mom's kitchen.  Just typing these words makes me incredibly hungry!  Autumn was a wonderful season, if only for the smells coming from the oven on a cool, Fall evening.
At the end of September, we took a trip to Gust Brothers Pumpkin Farm in Ottawa Lake, MI (see the devotional from 10/20).  I found a new favorite!  They take fresh apple cider frozen to slushie consistency and blend it with vanilla ice cream.  Oh, my!  What a phenomenal combination! My mouth is watering just thinking about it!
As wonderful as the apple is, it only finds 11 mentions in the Bible – and the first is not in the Garden of Eden.  The Bible doesn't tell us what that fruit was the Adam and Eve bit.
Actually, the first mention is in Deuteronomy 32:10 where the Lord describes Israel.  "He found him in a desert land, and in the waste howling wilderness; he led him about, he instructed him, he kept him as the apple of his eye."
That phrase is a term of endearment, showing the great affection God has for Israel.  In fact, God is very protective of the apple of His eye.  Zechariah 2:8 says, "For thus saith the LORD of hosts; After the glory hath he sent me unto the nations which spoiled you: for he that toucheth you toucheth the apple of his eye."  To touch the apple of God's eye is a dangerous thing!  At the establishment of this nation, God said that He would bless those who blessed them and curse those who cursed them.  (Genesis 12)
Knowing that this phrase refers to that which is highly precious, Proverbs puts a different spin on the phrase.  "Keep my commandments, and live; and my law as the apple of thine eye." (Proverbs 7:2)  God's commands and law are not to have a special place in our lives.  They are to have the special place in our lives.  In other words, that which is the apple of our eye takes priority.  We follow God's Word regardless of how uncomfortable it makes us or what obedience may cost us.  God's Word must be the apple of our eye.
Here's one final use of the phrase.  David prayed in Psalms 17:8, "Keep me as the apple of the eye, hide me under the shadow of thy wings."  You will protect the apple of your eye with every fiber of your being because it is the most precious, treasured thing to you.  Psalm 17 is one of David's pleas of protection from some enemy he was facing.  David knew that if God viewed him as the "apple of His eye," nothing could harm him.
Every once in a while, I will see a Christian t-shirt with this saying, "God loves all His kids but I'm His favorite."  We know that God doesn't have favorites and that He cannot love us more today than He did yesterday.  However, this sentiment seems to resound with David's thinking.  He wants to be God's favorite.
Knowing that the God of the universe knows me personally and loves me intimately really does make me feel special.  It makes me feel at times like His favorite, though I dare not act like I'm His favorite.  I am not the apple of His eye because of what I do but rather because of what He did for me.  He gave His own Son to die so that I might live.
Living as the apple of His eye is a great way to live!