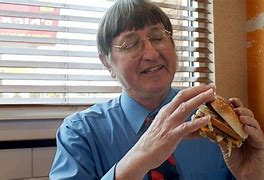 Don Gorske of Fond du Lac, Wisconsin has accomplished a milestone that most people will never even attempt.  Guinness Book of World Records has recognized him as the man who has eaten a Big Mac nearly every day of his life for the last 50 years!  He only missed eight days in the past 50 years.
As of August 2021, his total of Big Macs consumed surpassed 32,340.  In his younger years, he would eat 9 Big Macs per day.  He has reduced his intake now to only two per day.  How did he keep track of the number of Big Macs?  He has saved every receipt and box, storing them by the year they were purchased.
Some of you are thinking, "I'll bet this guy's health is horrible."  Not at all.  His doctor says that he is in good shape for his age.  His blood sugar, cholesterol, and triglycerides are perfect.  His weight is good.  While his obsession with the Big Mac may seem unhealthy and since it is about the only thing he eats, do the math.  Each Big Mac only has 563 calories.  If we are supposed to eat 2,000 calories per day, he can still have one-and-a-half more Big Macs!
Here's something else to consider.  When Don started this journey in 1972, the Big Mac cost only 65 cents.  Today, on average, a Big Mac costs over $4.  In his lifetime, he has spent over $75,000 on this sandwich.
Let me throw out a word that isn't in most of our vocabularies.  Gluttony.  Now there's a topic you won't hear preached.  If you do hear it preached or even mentioned, it will typically only be spoken by those who are skinny as a rail against those who have "meat on the bones" and "extra padding."  Therefore, by THEIR definition, the only
people who are gluttonous are those with a BMI that causes their doctor to shudder and the bathroom scale to cry, "One at a time!"
Such logic is flawed and the expression of this thought is nothing more than prideful speaking.
Proverbs 23:20-21 says, "Be not among winebibbers; among riotous eaters of flesh:  (21)  For the drunkard and the glutton shall come to poverty: and drowsiness shall clothe a man with rags." Riotous eaters and glutton are the same original Hebrew word.
Jared Wilson, writing for Baptist Press, defines gluttony as "saying 'more' to anything when you should say 'enough.'"  And, it should be obvious that gluttony applies to more than food.  It applies to any appetite.
Is a heavier individual automatically a glutton?  Absolutely NOT!  There can be a lot of medical and genetic reasons for being heavy.  Is a skinny person automatically safe from the sin of gluttony?  Absolutely NOT!  I've watched with envy as some skinny folks downed in quantity the very foods that cause me to gain weight just from smelling them.
The bottom line to it all is that Christians are required to be self-controlled.  We are to govern ALL of our appetites.  1 Corinthians 9:25 says, "And every man that striveth for the mastery is temperate in all things…" 
Would I dare to call Mr. Gorske a "glutton" because of his Big Mac attacks?  Absolutely not!  Some would probably jump right on this and start pointing fingers but I have no idea whether or not he is a glutton.  Only he and God can determine this.
All I have to worry about is me.  And we should all be known as temperate, self-controlled individuals.
https://www.upi.com/Odd_News/2022/05/18/Big-Macs-50-years-Wisconsin/7471652891977/