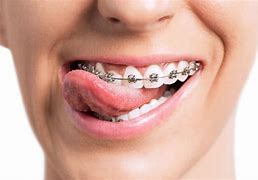 Brace Face.  Metal Mouth.  Train Track.  Tinsel Teeth.  Tin Grin.  Zipper Lips.   All are nicknames once associated with someone wearing those fashionable metal braces on their teeth.  Our politically correct, ultra-sensitive society would frown sternly on anyone using such monikers.  I think they just mark the passage of time.
Lest you think I'm being insensitive, I was once one of those kids who sported a set of braces.  The nicknames made you feel like you were a part of the club since most of your friends had them, too.  They were terms of endearment and inclusion rather than meant as derogatory and exclusionary.  Just look at our class photos.  We all looked like we were trying to contact aliens and had the antennas in our mouths!
And, I well remember the source of "Zipper Lips."  Walking to band one afternoon, I was caught square in the mouth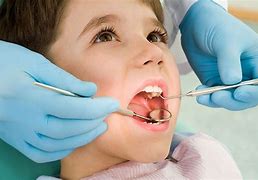 by a friend's gym bag that he was swinging.  He accidently nailed me and my lips were immediately embedded in the braces.  I had to be pull my lips loose, leaving an obvious zipper pattern on my bleeding skin.
The origin of these metal torture devices traces back to the Etruscan civilization of ancient Italy that existed from 900-27 BC.  This was the first culture to straighten teeth using "appliances."  "In 1728, Frenchman Pierre Fauchard, known as the "Father of Orthodontia," wrote a book titled "The Surgeon Dentist" that included a chapter devoted entirely to methods of straightening teeth."  Modern orthodontia was developed in the late 19th c., laying the principles upon which today's orthodontists have built.*
Dentists have continued to improve their techniques, even adding colorful bands and making braces fashionable.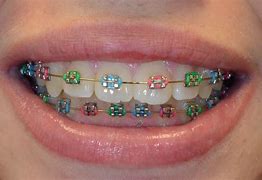 Kids will proudly show off their new hardware and have a story to explain their color choices.
Through the years, parents have invested billions of dollars in the smiles of their children.  Crooked teeth need to be made straight and it is considered worth the small fortune and temporary pain to achieve that award-winning smile.
Hebrews 12:12-13 says, "Wherefore lift up the hands which hang down, and the feeble knees;  (13)  And make straight paths for your feet, lest that which is lame be turned out of the way; but let it rather be healed."  Lift up in the original languages is built on the root word orthoo from which we get the word – wait for it – ortho which means to brace up in order to make erect, straighten.
A person may have to see an orthopedic doctor if they have injured a bone, tendon, or ligament.  Casts or braces will be prescribed to provide stability to the weakened limb.  Braces on teeth are placed by a doctor specializing in orthodontics.  They want to straighten crooked teeth.
Sometimes life bends us over, even breaking those spiritual bones.  Trials and troubles weigh heavily and over time, we start to grow a bit crooked.  The writer of Hebrews encourages us to help straighten those who are bent, warped by weakness and woes, stooped by sorrow, and bowed by burdens.  We must keep ourselves straight so that we can be a help to others.
It's a beautiful smile when that which was crooked has been made straight.  And, it's an even more beautiful life which has been straightened out and strengthened by friends who have applied the braces to our lives.
God bless those who specialize in spiritual orthotics!
*https://advanceorthodonticshouston.com/the-history-of-orthodontic-braces