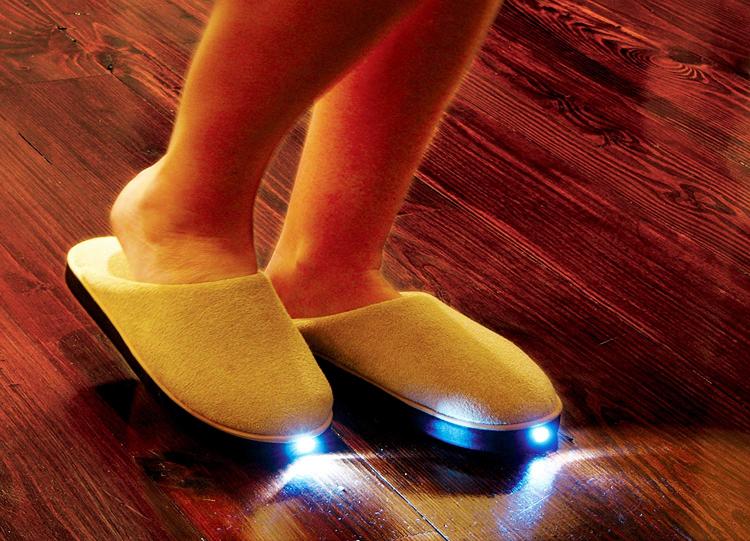 I know that Christmas is over but if you are looking for some sort of unique gifts for a birthday, anniversary, or holiday, you can go to www.odditymall.com and find all sorts of strange and bizarre items.  Some are ridiculous beyond words.  Others are rather ingenious.  Such is the case with Bright Feet.
Available for children and adults, these house slippers provide a great solution to a common problem.  Here's the scenario.
It's the middle of the night and nature calls.  You don't have nightlights all through your home and turning on a light would possibly wake your spouse.  What are you going to do?  How will you get to the potty and keep all 10 toes intact?  Or, let's say that you get the munchies in the night and need a little something to tide you over.  Again, no nightlights, you don't want to wake everyone with a light, and you are trying to be a bit sneaky.  A stubbed toe in the dark is going to make you holler, thus revealing what you were doing and waking the rest of home.  How are you going to get around this?
Bright Feet!  These house shoes have a built-in LED light right in the toe.  The off/on switch is weight activated so the moment you step in the shoes, you have light.  Photosensors are built into the sides of the shoe.  If you enter the bathroom or kitchen and turn a light on, the shoe lights go off.  And when you make your way back to bed and step out of the shoes, the headlights are just like your car.  There is an 8-second timer and dimmer built in.
Ingenious!  They are currently out of stock but you can purchase these through Amazon for the low, low, low price of just $19.99.  I wish I could say, "But, wait, there's more!" but I can't.
While this company has invented a product to serve a need, the Lord created a "product" for the exact same need and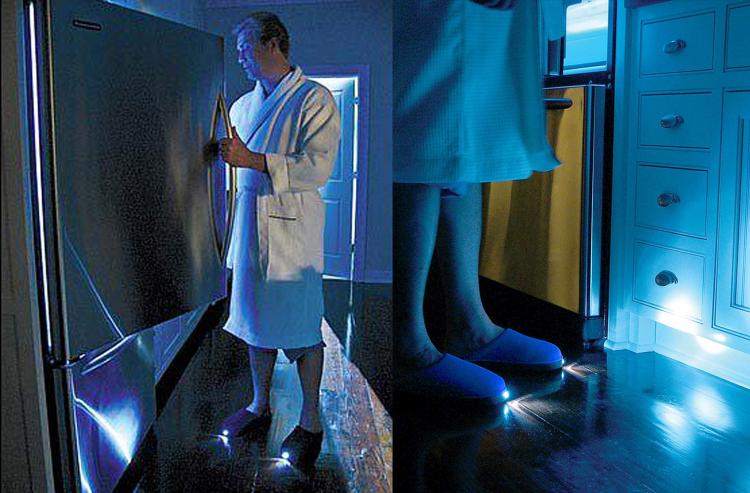 He holds the original patent.  Psalms 119:105 says, "Thy word is a lamp unto my feet, and a light unto my path."
The view on the path of life is often obscured by the darkness of the world.  Even Christians have the potential of stubbing our toe and stumbling along the way.  To keep us from doing that, the Lord has provided us with perfect light that shines on our path.
The light of the Word of God never dims or diminishes.  There is not enough darkness in the world to overshadow the light of the Word.  Nothing can overcome the illumination provided by Scripture.  If that is true, then why do we stumble and fall so often?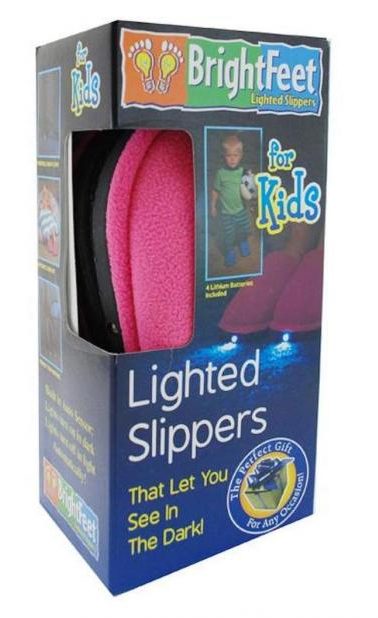 I can have flashlights of every shape, size, and lumens in my home.  Each can be fully charged or have brand new Duracell's.  I could have a pair of Bright Feet.  But none of these will do me a bit of good if I don't use them.  They can't remain on a shelf or tucked away at the edge of my bed.  I can't walk by and daily admire my collection.  I have to USE them.
Christians, when we stumble and fall in this dark world, we have nobody to blame but ourselves.  God's Light was ready, willing, and able to illuminate our path.  Why were we content to try it in the dark?  We never see the way so clearly that we don't need God's Light on the path.
When you read your Bible today, maybe get your sunglasses ready.  That Light is BRIGHT!