Capt. Chesley Burnett Sullenberger III is one of those names that went from obscurity to international fame in one act of heroism, skill, and grace under pressure.  It all happened in five life-changing minutes.
Affectionately known as Sully, Capt. Sullenberger was an experienced pilot.  He had logged over 20,000 hours of air time through his military and civilian life.  On this day in 2009, he was flying Airbus 320 (call sign Cactus 1549) and had logged 4,756 hours on this craft.
At 3:26 p.m., the flight left LaGuardia in NYC, headed for Charlotte, NC with 150 passengers and 5 crew members on board.  One minute into the climb, Cactus 1549 hit a flock of Canadian geese.  Sucking at least two geese into each engine, the engines promptly shut down, leaving the flight powerless.
A mere 22 seconds after striking the geese, Capt. Sullenberger very calmly radios this message:  "This is Cactus 1539, hit birds. We've lost thrust on both engines. We're turning back towards LaGuardia."1  "When air traffic controllers instructed the seasoned pilot to head for nearby Teterboro Airport, he calmly informed them that he was "unable" to reach a runway. "We're gonna be in the Hudson," he said simply, and then told the 150 terrified passengers and five crew members on board to brace for impact."2
Once in the water, evacuation procedures went in to play.  Before leaving the plane, Sullenberger went up and down the aisles twice to make sure nobody was left behind.  When the day had ended, all 155 travelers on Cactus 1539 were alive and well.  The worst injury was an individual with two broken legs.  Others had minor cuts and bumps.  But all survived.
Landing on the water is no small feat.  Doing it without the aircraft breaking apart is nearly unheard of.  The landing was so spectacular and so many factors had to be just right that it has been dubbed "Miracle on the Hudson."  But is that an accurate description?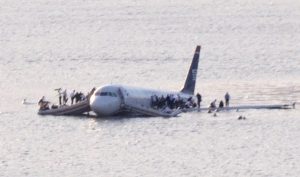 GotQuestions Ministries writes that a miracle is "an event that involves the direct and powerful action of God, transcending the ordinary laws of nature and defying common expectations of behavior. Miracles are extraordinary occurrences that can only be attributed to the supernatural work of God and demonstrate His involvement in human history."3
An example of a bona fide Biblical miracle can be found in Exodus 7:8-9.  "And the LORD spake unto Moses and unto Aaron, saying,  (9)  When Pharaoh shall speak unto you, saying, Shew a miracle for you: then thou shalt say unto Aaron, Take thy rod, and cast it before Pharaoh, and it shall become a serpent."  Another example is in Isaiah 38:7-8.  "And this shall be a sign unto thee from the LORD, that the LORD will do this thing that he hath spoken;  (8)  Behold, I will bring again the shadow of the degrees, which is gone down in the sun dial of Ahaz, ten degrees backward. So the sun returned ten degrees, by which degrees it was gone down."
In all the other Biblical examples, no explanation can be given as to how something happened other than to say that God had done it.  Paralytics were completely healed, cruses of oil never ran out, and an insignificant basket of food fed 5,000 people.
The word "miracle" is a Biblical word.   Unfortunately, it gets devalued when applied to non-miraculous events.  The athlete made a miracle shot/catch.  The CEO miraculously turned the company around.  Your kid called from college and didn't ask for money – it's a miracle!
Don't get me wrong.  I believe wholeheartedly that the hand of God was on Cactus 1549.  I just don't feel comfortable attaching the word "miracle" to the NTSB (National Transportation and Safety Board) report which lists several decisions made by the pilot that resulted in a safe landing.  That word has to be reserved, cherished, and used carefully so that we never lose the significance of true miracles.
Now, if the Hudson River had parted like the Red Sea and Cactus 1549 landed on dry ground, now that would have been miraculous!!
1https://simpleflying.com/the-miracle-on-the-hudson/
2https://www.history.com/this-day-in-history/sully-sullenberger-performs-miracle-on-the-hudson
3https://www.gotquestions.org/definition-miracle.html