"My name is Caractacus.  Caractacus Potts."  Doesn't have the same ring to it as "My name is Bond, James Bond," does it?  But, there is a unique connection between the two.  Caractacus Potts is none other than the lead character of the 1968 movie, Chitty Chitty Bang Bang, played by Dick Van Dyke.  James Bond – 007 – is a British secret service agent who has been around in the James Bond film series since 1962.  And, both were the literary inventions of Ian Fleming.
Today, we are finishing our trip through some of my favorite musicals.  For those deprived individuals who have never seen Chitty Chitty Bang Bang, "this fantastical musical adventure story… widowed father and eccentric inventor Caracatus Potts transforms a broken-down old car into a flying machine — to the delight of his children, and the envy of the tantrum-prone Vulgarian king, who has outlawed children in his kingdom. The Potts family, with candy factory heiress Truly Scrumptious, head to the kingdom to save the day." *
This whimsical musical features some humorous songs and amazing dance numbers performed by Dick Van Dyke.  However, the way the story was developed is a very sad tale.
By all accounts, Ian Fleming was considerably less than an exemplary role model.  Multiple affairs, heavy drinking and smoking characterized Mr. Fleming, all of which are well documented by several biographers.  In 1952, he wrote his first successful James Bond thriller, Casino Royale, and his fame skyrocketed.  In the next 14 years, he would write 11 more Bond novels as well as publishing two collections of short stories.
In 1961, Fleming survived his second major heart attack.  He was sent home with strict orders to convalesce.  "It was around this time that his eight-year-old son Caspar told him: "Daddy, you love James Bond more than you love me!" The author decided to show his affection for his only child – whom he nicknamed "003-and-a-half" – by writing in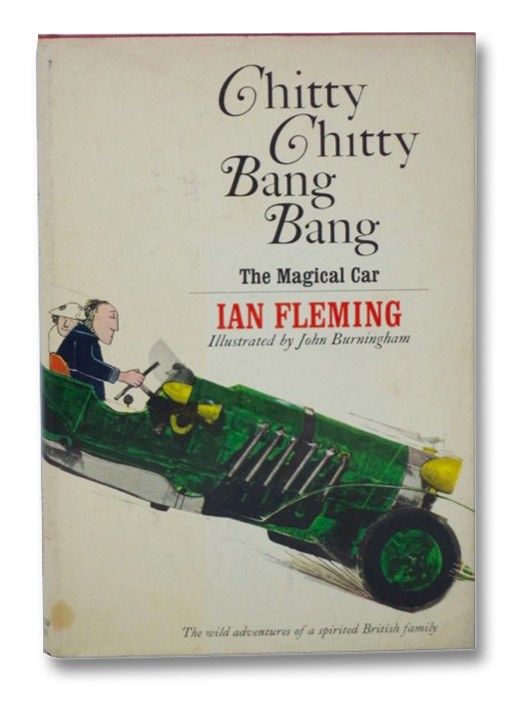 longhand a series of children's stories he first called The Magical Car." **
This became the seed for Chitty Chitty Bang Bang.  However, Fleming would not get to see the publication of his book or the movie.  In 1964, two months before the publication release, Fleming would have another heart attack and this one was fatal.  This happened on Caspar's 12th birthday.
Caspar had already been feeling that his dad put his work first.  When Ian died, it sent Caspar into a fast and deep descent.  His mother lamented that all Caspar talked about now was the desire to kill her.  At the age of 23, Caspar decided to turn his animosity upon himself.  He took a lethal dose of barbiturates.  In the pocket of his pajamas was this note:  "If it is not this time it will be the next." ***
If you've ever watched Chitty Chitty Bang Bang, it's hard to imagine that such a fun, light-hearted, decent story could have come from a home with such sadness and darkness.  It makes you wonder how many more tragedies are occurring behind closed doors.
Matthew 23:27-28 says, "Woe unto you, scribes and Pharisees, hypocrites! for ye are like unto whited sepulchres, which indeed appear beautiful outward, but are within full of dead men's bones, and of all uncleanness.  (28)  Even so ye also outwardly appear righteous unto men, but within ye are full of hypocrisy and iniquity." 
White-washed sepulchers are all around us, rubbing elbows with us every day.  They are easy to identify, especially when the skeletons come tumbling out of the closet.
Take a moment, though, and look in a mirror.  You know what you're seeing but does it match the inside?  Could it be that you are the white-washed sepulcher?
Ecclesiastes 12:14 tells us, "For God shall bring every work into judgment, with every secret thing, whether it be good, or whether it be evil."  Everything comes into judgment.  For the saved, this results in the gain or loss of reward.  For the unsaved, these revealed works stand in condemnation against the lost at the Great White Throne Judgment.
While there is time, get the inside right with God so that the outside becomes an honest proclamation of God miraculous work.
* https://www.fandango.com/chitty-chitty-bang-bang-3074/plot-summary
** https://www.independent.co.uk/arts-entertainment/films/features/chitty-chitty-bang-bang-50-anniversary-dick-van-dyke-a8680251.html
***ibid