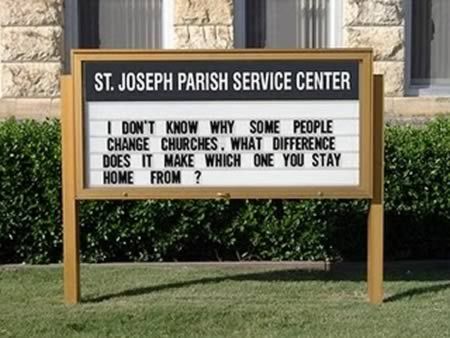 Over the next few devotionals, we are going to consider the theology of church signs.  Sometimes, those short and pithy marquee messages pack a wallop!  They are "punny" yet potent.  A few signs even convey a wrong message which becomes a message in itself.   This opening paragraph and little disclaimer will accompany each devotional:  The use of the church sign's message in no wise constitutes an endorsement of the church or denomination.  With that in mind…
"I don't know why some people change churches.  What difference does it make which church you stay home from?"  Though I've never said it this way, the sign expresses a question I've had for years.  I imagine every pastor has lamented the same thing.  Where is everyone?!?
The author of Hebrews says, "And let us consider one another to provoke unto love and to good works:  (25)  Not forsaking the assembling of ourselves together, as the manner of some is; but exhorting one another: and so much the more, as ye see the day approaching." (Hebrews 10:24-25).  To accomplishes verse 24 and the last half of verse 25 requires us to be assembled.  And assembling the "parts" together should increase, not decrease, as we get closer to the Lord's return.
Maybe you wonder what the "big deal" is about being at church all the time.  Consider some other "sign theology."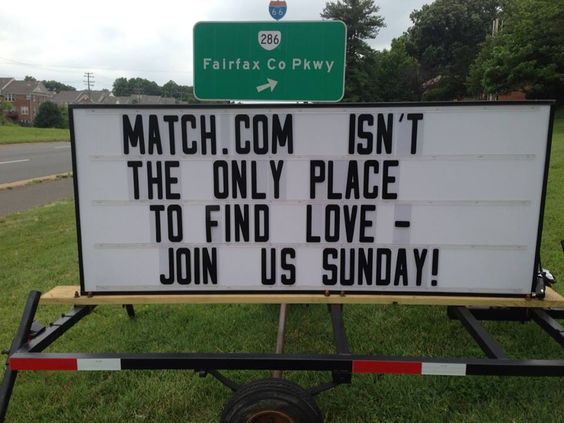 "Match.com isn't the only place to find love.  Join us Sunday."  At church we hear about God's love.  For the lost person, they hear how they can be saved.  For the believer, they are encouraged to know that God never stops loving them.  And when we are together, we have the opportunity to love on each other.  There's nobody who doesn't need more lovin', right?  Well, get to church and get a healthy dose of that love.
"Need home improvements?  Bring your family to church."  I am reminded of Paul told the Philippian jailer.  "And they said, Believe on the Lord Jesus Christ, and thou shalt be saved, and thy house." (Acts 16:31).  The Lord loves the family.  Families can be saved.  Families can grow together.  Families can serve the Lord together.  Families should worship together.  Bringing the whole family to church and teaching them the importance of the house of the Lord is something that the Lord presented all the way back in the Old Testament.  Why would we do any less in this New Testament era?
"If your life stinks, we have a pew for you!"  Some will avoid church because they feel that their life stinks and everyone sitting in church has their life together.  What a joke!!!  Never feel like the church is a place for those who have it together.  Rather, it's a place where those who don't have it together gather to try to learn how to get it together.  All imperfect, hurting people are welcome – which means that we are ALL welcome.
"Don't wait for the hearse to take you to church."  There was a time where all funerals were held in the church and the funeral home was simply the place to get bodies prepared for viewing.  Some folks in our world have made three appearances in church:  birth, marriage, and death.  They had no control over the first one but the other two have puzzled me.  If you want nothing to do with the Lord, His life, and His church, why get married there?  And, why have the funeral there, forcing some minister to come up with a delicate way to put your life into eternal perspective?  Instead, why not find a church that preaches the Gospel and the Word?  If you're not saved, I know they would love to tell you how to be saved.  And, if you are, that same church wants to help you grow in your walk with the Lord.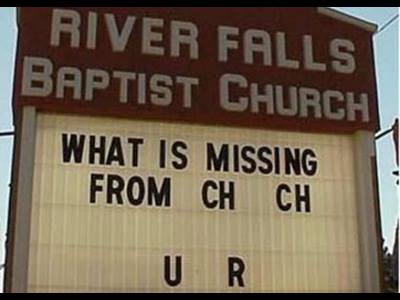 I will let this last sign have the last word.  "What is missing from CH _ _ CH?  U R."