In a sermon a few weeks ago, I shared about the trials our church family has been through just since 2020 began.  We have lost a number of our dear friends and family members.  Our church has been hit with the loss and grief.
However, imagine what it must be like for churches in NYC!
The Associated Press ran this article on May 12, 2020.  NEW YORK (AP) — "One is a Roman Catholic church in Queens; the other, a Lutheran church in Manhattan. But the COVID-19 pandemic has united the two Hispanic congregations in grief.
"Between them, they have lost more than 100 members to the coronavirus, and because of lockdown rules, they lack even the ability to mourn together in person.
"Many in their communities have vulnerabilities — jobs classified as essential during the pandemic, at workplaces ranging from hospitals to supermarkets, with pressure to keep working even at the risk of exposure. And many are undocumented immigrants who lack access to healthcare.
"The death toll has neared 40 among the roughly 400 congregants who join Spanish-language services at Saint Peter's Church, a Lutheran congregation, in midtown Manhattan…The toll has been even higher at Saint Bartholomew Catholic Church in the Elmhurst neighborhood of Queens. Its pastor, the Rev. Rick Beuther, says at least 63 parishioners have died from the virus, possibly dozens more…
"It brought a lot of stress," Beuther said. "Anyone who was coughing or sneezing in an apartment, they'd be afraid that the rest of the group would ask them to leave."
"On Saturday and Sunday, for the first times during the pandemic, Rev. Fabian Arias of St. Peter's Church performed funeral services in private homes — donning a surgical mask and gloves to join the mourning families.
"On Monday, he was back at a funeral home, leading a service for Argentine-born musician Héctor Miguel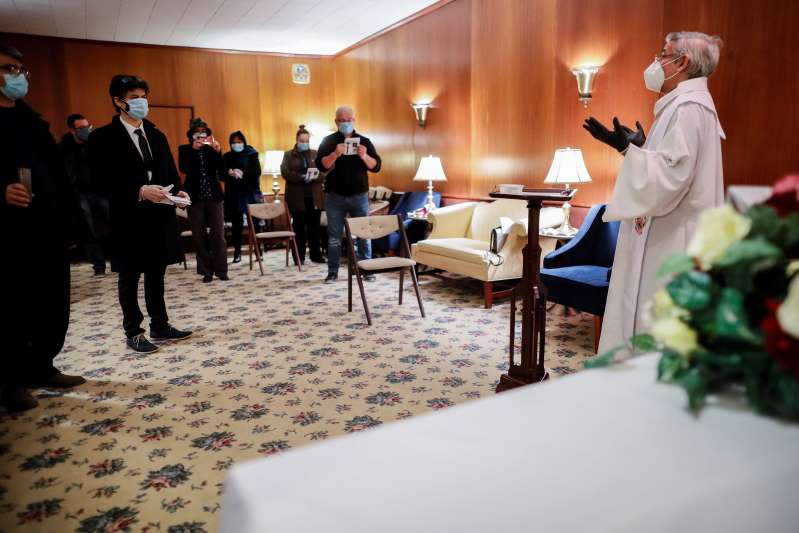 Cabaña, who died from COVID-19 last week at the age of 74…"  Associated Press on MSN.com
Forget politics for a moment.  Forget the theological differences.  Put it all aside for just a second so that we might feel some empathy for people – hurting, struggling, and grieving in ways with which we are familiar, only amplified and magnified.
Matthew 9:36 describes Jesus' attitude towards hurting people.  It says, "But when he saw the multitudes, he was moved with compassion on them, because they fainted, and were scattered abroad, as sheep having no shepherd."
What do we know about the crowds that followed Jesus?  The people here in Matthew 9 started out as the sick and diseased.  We also learn that they were lost heathen.  The next two verses of this chapter are a call for laborers to enter the harvest of souls.  Other similar scenes in Scripture feature people from all walks of life, all nationalities, and they were hungry.
Jesus didn't see politics.  He didn't see denominations.  He didn't see ethnicities.  He saw people!  And, His number one priority was not to heal or feed them.  Yes, Jesus did those things.  But, the purpose for doing these things was not to meet physical needs.  It was to draw attention to the Gospel message.  Everything Jesus did was about getting people saved and building the family of God.
Paul reminds us of this in Romans 2:4, "Or despisest thou the riches of his goodness and forbearance and longsuffering; not knowing that the goodness of God leadeth thee to repentance?"  God is good and longsuffering to the lost in order to lead them to repentance.
The hurts and pains of the world supply us opportunity to step in to someone's life, showing God's love and compassion, NOT to elevate their status in life but to introduce them to the Savior, Jesus Christ.
We don't have to travel to NYC to find hurting, needy people.  They are probably living right next door.  All that's left to be determined is whether or not we will be moved with compassion towards them as Jesus. "As we have therefore opportunity, let us do good unto all men, especially unto them who are of the household of faith." (Galatians 6:10)