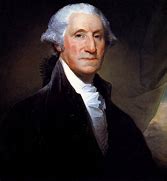 Yesterday, you read the words of President George Washington as he called the nation to Thanksgiving.  It's tempting to think that Washington was beloved by all and that there was never anything negative said about his leadership.  Everyone was thrilled to be in new nation and riding that "honeymoon" train, everyone loved Washington.
Nothing ever goes that smoothly.
On November 3, 1777 – just a few months since the USA turn one-year old – our nation was operating without a president.  Washington was not elected until 1789.  Instead, the Continental Congress was in charge, along with the loose confederation of governors from each of the early 13 states.  In our 21st c. terminology, Congress served as the Commander in Chief and Washington's role would have been similar to today's Chairman of the Joint Chiefs of Staff with one exception – Washington was actually in the field and not sequestered in strategy rooms.
The new fledgling nation had been suffering some defeats at the hands of the British.  Congress was blaming Washington and one of Washington's generals, Gen. Horatio Gates, thought this was the perfect opportunity to promote himself.  However, Gates didn't have the ear of Congress so he whispers his complaint in the ear of a friend, Inspector General Thomas Cabal.  Cabal led the conspiratorial effort in Congress to usurp Washington.
Conway began a letter writing campaign to other military staff and members of Congress, expressing his displeasure with Washington's leadership and the need for better leadership.  One of those letters was written to Gen. Gates, letting him know that he was being supported by the Inspector General to replace Washington.
Even without the Internet, gossip travelled fast and Washington found out Cabal's plan.  At this point, Washington wrote his own letter to Congress, explaining what was going on in the field and what Cabal was trying to do.  "Embarrassed, Conway offered his resignation in March 1778 by way of apology, and was surprised and humiliated when Congress accepted. After General John Cadwalader wounded him in a duel defending Washington's honor, Conway returned to France, where he died in exile in 1800."1
On April 5, 1789, the votes of an election were tallied and Washington had received the majority of votes from all 13 
states.  The runner-up, John Adams, was made the Vice-President.  And, the President's annual salary was $25,000.  "$25,000 in 1789 is equivalent in purchasing power to about $779,289.77 today."2  While this may seem like an exorbitant amount of money, Washington paid for the presidency expenses from this salary.  Therefore, the budget for the U.S. government was $25,000 in 1789.
Have you ever had anyone conspire against you, spreading rumors and lies?  Were the words so malicious that you wondered what you would do?  There were many Bible characters who experienced this and the instructions to them were simple.
"But sanctify the Lord God in your hearts: and be ready always to give an answer to every man that asketh you a reason of the hope that is in you with meekness and fear:  (16)  Having a good conscience; that, whereas they speak evil of you, as of evildoers, they may be ashamed that falsely accuse your good conversation in Christ.  (17)  For it is better, if the will of God be so, that ye suffer for well doing, than for evil doing."  (1 Peter 3:15-17)
Have your relationship right with the Lord.  Live your witness and testimony boldly and transparently.  Take the accusations on the chin.  Know that God will shame the accuser in the end.  Accept that suffering for doing right is all a part of the Christian walk.
That's not what you wanted to read, was it?  Someone rips us apart and we want to return the favor.  We feel the need to defend ourselves and to right the wrong.  However, the Scripture seems to indicate that our response should be just the opposite.
Yes, there are definitely times to defend ourselves.  Paul did this frequently before councils.  Just remember, though, how it typically worked out for him.  After he gave his defense, he would be beaten, flogged, and jailed.  I wonder how many false accusation Paul heard whispered about himself that he never responded to.
It's hard and humiliating to "take it on the chin."  But maybe we need to heed the example of Jesus.  Matthew 27:12-14 says, "And when he was accused of the chief priests and elders, he answered nothing.  (13)  Then said Pilate unto him, Hearest thou not how many things they witness against thee?  (14)  And he answered him to never a word; insomuch that the governor marvelled greatly."
Before defending our honor, perhaps a moment of prayer would be in order so that we can ensure that GOD's honor is defended.
1https://www.history.com/this-day-in-history/washington-learns-of-conway-cabal
2https://www.in2013dollars.com/us/inflation/1789?amount=25000