Are you content, I mean, really content?  Webster's 1828 Dictionary defines the word as quiet; not disturbed; having a mind at peace; easy; satisfied, so as not to repine, object, or oppose.  Thayer's Greek Dictionary adds this touch to the definition:  independent of external circumstances.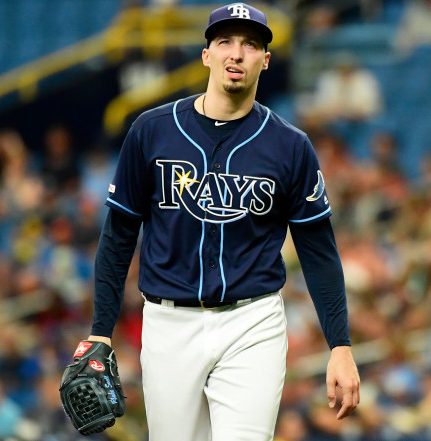 Blake Snell is a left-handed pitcher for the Tampa Bay Rays.  In a recent interview, he reacted to MLB's proposal to shorten the season and reduce the pay.  "Snell believes the physical danger of playing during the coronavirus outbreak is so great that he's ready to sit out whatever amount of games are eventually played if his compensation is too low.
"For me to take a pay cut is not happening because the risk is through the roof.  I've got to get my money. I'm not playing unless I get mine, OK? And that's just the way it is for me." www.sportingnews.com
Let's break this down.  Over the next 5 years, his contract says he should make $50 million and $7 million for this year.  A shortened season and games played with no fans in the stands means revenues will not be pouring in – revenues that pay these exorbitant salaries.  Cot's Baseball Contracts shows that the total salaries paid by the Rays in 2019 for a 40-man roster was almost $67.5 million.
If Mr. Snell gets half of his salary for 2020, he will still get $3.5 million.  Let's put this into perspective.  We currently support 33 missionaries or mission organizations.  If we had Mr. Snell's salary for one year, we could give our missionaries a 5000% increase.  Or, we could take on 1,645 new missionaries at the current level of support.
The average income of Americans is currently $46,641/year.  If we got Mr. Snell's salary, it would be a 7404% increase in our salary.
Now, we would all get increases which makes us delirious to think about and Mr. Snell is facing a pay cut.  But, his pay cut is STILL over 7000% higher than our average pay.  And, WE have "risked it" to go to work in factories, stories, offices, restaurants, or wherever else you might have to go.  First Responders have risked it.  Hospital workers have risked it.
Has this affected your contentment?  If it has, you have hidden it well.  Many of you have reflected on the peace and contentment you've known during this time.  A pandemic has not rattled your peace.  Your peace and contentment is independent of external circumstances.
In Philippians 4:11-13, Paul reminds us, "Not that I speak in respect of want: for I have learned, in whatsoever state I am, therewith to be content.  (12)  I know both how to be abased, and I know how to abound: every where and in all things I am instructed both to be full and to be hungry, both to abound and to suffer need.  (13)  I can do all things through Christ which strengtheneth me."
Money doesn't buy happiness, peace, or contentment.  It doesn't purchase a ticket for heaven or the most palatial mansion in the heavenlies.  As the song says, "JESUS paid it all."
"Blessed be the God and Father of our Lord Jesus Christ, who hath blessed us with all spiritual blessings in heavenly places in Christ." (Ephesians 1:3)
If you have Jesus, you have everything and anything else is just incidentals along the way home.  Let your contentment radiate from your face and life today.