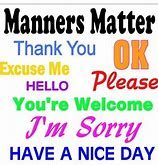 I'm uncomfortable with the many sleights of manners and etiquette seen all throughout our nation.  Evidently, I'm not the only one.
In a HuffPost article published May 22, 2015, their Facebook readers were asked to share the niceties they've observed going by the wayside.  The top ten responses were:
Writing thank-you notes.
Welcoming a new neighbor with a batch of cookies.
Giving up your seat to a woman (especially if she is pregnant) and the elderly.
RSVPing to events.
Removing your hat indoors.
Making polite small talk at the check-out.
Saying, "You're welcome."
Giving your undivided attention to company rather than your phone.
Holding the door open for someone.
Never interrupting people to take a phone call.*
These courtesies have just about disappeared from our culture.  I would continue this list with a few of my own.
Children addressing adults by Mr. or Mrs. and doing the same for the elderly.
Addressing your school teacher by Mr. or Mrs. rather than by their first names (to this day, I cannot and WILL not call any of my teachers by their first names!).
Standing during the National Anthem or a parade of the Colors, hand over heart, eyes on the flag, hat removed, and mouth shut.
I will admit that some courtesies may be cultural.  For instance, slurping in Japan and belching in certain parts of India, China and in Bahrain are all signs that the meal was delicious.  And nothing says it better to the Innuits of Canada than a spontaneous burst of flatulence.  Those would all be cultural no-nos in America.  Can't we see the look of horror cross a mother's face if her child did any of these?
We can point to numerous reasons why these cultural deficiencies have been occurring.  However, each reason has something in common.  They all place my immediate wants or needs over everyone else.  They do not take into account those around them.
Our society is narcissistic.  We fill social media outlets with anything that floats in our heads, expecting everyone to "like" it, and furious with the person that denounces it.  We are encouraged to broadcast ourselves, letting our voices be heard and our presence known.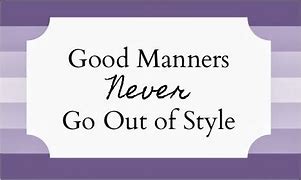 The Bible teaches just the opposite.
Philippians 2:3 says, "Let nothing be done through strife or vainglory; but in lowliness of mind let each esteem other BETTER than themselves."  In Romans 12:10 we read, "Be kindly affectioned one to another with brotherly love; in honour PREFERRING one another."  And, we read in Ephesians 5:21, "SUBMITTING yourselves one to another in the fear of God."
Reread the list.  When those common courtesies are absent, how does that demonstrate esteeming others better than ourselves?  How does it show preferential honor?  How does it show submission?
It's all about me?  No.  It's all about the Lord, first, and you, second.  I come in third!
https://www.huffpost.com/entry/polite-things-people-dont-do-anymore_n_7399014