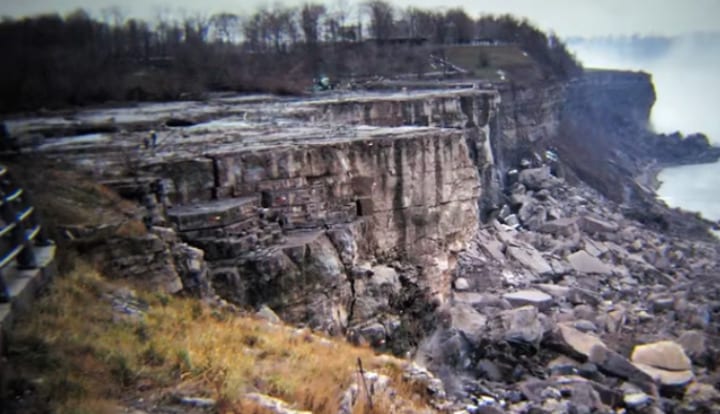 On February 7, 2021, I wrote a devotional about Niagara Falls.  Let's revisit the Falls and discover something about the Falls you may have never heard.
The year is 1965.  New Yorkers began to notice that the Falls were seeming less torrential.  Water flow was a bit impeded.  A talus was forming due to rock erosion and the American side of the Falls was in danger of eventually turning into a trickle.  This would have caused tourism to turn into a trickle, resulting in millions of lost dollars.
The Army Corp of Engineers took on a joint project with Canada to create a natural dam, diverting the flow of water completely to the Canadian side.  Almost 30,000 tons of rock were hauled in to create a dam that would stretch about 600 feet.  The cost of the dam was $445,412.
The water flow was finally stopped in June 1969.  Over 100,000 tourists came to see the mighty Falls stilled.  However, tourism quickly died off due to the fact that Niagara Falls minus water equals a cliff.  Nothing exciting to see here.
While scientists and geologists worked at taking core samples to test for instabilities in the rock, others were mechanically bolting and strengthening fault lines to prevent future erosion.  The river bed was cleaned of debris and moss.  The massive amount of talus, though, was left untouched due to what was a deemed too great an expense to remove it.
As the waters abated and dry ground appeared, millions of coins were found, representing the wishes of tourists made while visiting the Falls.  Something else was found, though, that got police detectives involved.
Two corpses were discovered among the rocks, a male and female.  The discovery of the male body was not really surprising.  The day before the draining, he was seen jumping in.  Again, not too surprising considering that between 20-40 people commit suicide at the Falls every year.1  However, considering the timing of his jump, you wonder if it wasn't some attention-getting stunt that went horribly wrong.
"The female, who has also never been identified, was in a much greater state of decomposition and was wedged between rocks. She was wearing a red and white horizontal striped dress. She had a narrow gold wedding band with the inscription "forget me not." She was "jammed head first amongst the rocks about half way up talus bank."2
Speculation becomes our only recourse when evidence is lacking.  Was she murdered, pushed to her death?  If so, what could she possibly have done?  Did she witness a crime and tossed over the Falls so she couldn't testify?  Was a husband trying to get rid of her?  Or, did she commit suicide?  If so, what had gone so wrong in her life that she felt this was her only "out?"  Had her husband been unfaithful?  Had she done something so shameful that the discovery of her body seemed less startling than the discovery of her sin?
The inscription on her wedding band, "forget me not," seems especially sad when her decomposed body is found in such a place.  Had she been "forgotten" by the love of her life?  Are there any family members left who remember her?
Do you feel forgotten, pushed to the side and ignored by those around you?  Is there a loneliness in your soul created by isolation as you've been forsaken by those who had promised to be with you forever?  If so, consider the words spoken by Isaiah.
Isaiah 44:21 says, "Remember these, O Jacob and Israel; for thou art my servant: I have formed thee; thou art my servant: O Israel, thou shalt not be forgotten of me."  The thought is continued in Isaiah 49:14-15. "But Zion said, The LORD hath forsaken me, and my Lord hath forgotten me.  (15)  Can a woman forget her sucking child, that she should not have compassion on the son of her womb? yea, they may forget, yet will I not forget thee."
Though we may feel alone and forgotten, we can rest in the knowledge that the Lord has never abandoned or forgotten us.  He will never leave nor forsake us.  We have His promises assuring us of this.
Today, be still and know that He is God.  He is right there with you this very moment!
1https://www.obsev.com/life/chilling-discovery-under-niagara-falls/
2https://www.reddit.com/r/UnresolvedMysteries/comments/gbi8mb/the_jane_doe_found_when_niagara_falls_was_dammed/
To read a day by day diary of the events, go to http://www.niagarafrontier.com/dewater.html