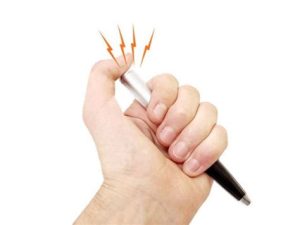 Do you suffer from displacement behaviors?  Maybe I should ask, do others suffer because of your displacement behaviors?  Displacement behaviors include things like constantly tapping your foot when you're seated, patting your leg, jiggling change in your pocket, clicking your pen, or twirling your hair.  It could include drumming your fingernails on a table or biting those nails.  These habits don't bother you a bit.  In fact, they provide you with some sense of comfort.  Those around you, though, are growing more and more irritable as the noisy seconds pass by!
While the hair twirler might be a bit annoying, we can always look away if it gets under our skin.  The other behaviors, though, create noises which tend to grate on the nerves of the calmest of individual.  We can only stand to hear so much click, click, click or tap, tap, tap before snap, snap, SNAP!
Why do we do these things and how did we get into the habits?  Experts say that we do these things as a means to release stress, soothe anxiety, or relieve boredom.  They have a calming effect on us.
It's the same reason why dogs chase their tales?
When Fido practices this behavior, we tend to find it pleasurable to watch.  They are so content and happy to chase their tail all day long.  In the rare instance they catch their tail, it seems like they aren't quite sure what to do with it.  Typically, they will release it and the game of chase begins anew.  For their human, we get to enjoy some free entertainment.  Their antics are comical.
As I was thinking about this, a thought hit me.  A dog chasing its tail is a lot like the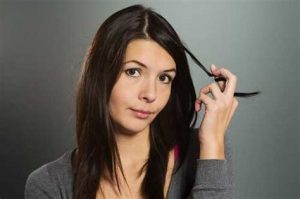 people described in the last days.  2 Timothy 3:1-8 says, "This know also, that in the last days perilous times shall come.  (2)  For men shall be lovers of their own selves, covetous, boasters, proud, blasphemers, disobedient to parents, unthankful, unholy,  (3)  Without natural affection, trucebreakers, false accusers, incontinent, fierce, despisers of those that are good,  (4)  Traitors, heady, highminded, lovers of pleasures more than lovers of God;  (5)  Having a form of godliness, but denying the power thereof: from such turn away.  (6)  For of this sort are they which creep into houses, and lead captive silly women laden with sins, led away with divers lusts,  (7)  Ever learning, and never able to come to the knowledge of the truth.  (8)  Now as Jannes and Jambres withstood Moses, so do these also resist the truth: men of corrupt minds, reprobate concerning the faith."
The people described in the last days are always chasing their tails – the spiritual truth they claim to desperately want – and never catching it.  If by chance they do catch a part of it, they don't have a clue what to do with it!  They release it and get on with the chase.
This is definitely not entertaining or fun to watch.  Our heart breaks for those to whom we've witnessed, longing to share the truth of the Gospel with them.  They seem intent on listening but can't get over the "decision hump."  They are "ever learning and never able to come to the knowledge of the truth."  Rather than having a heart-altering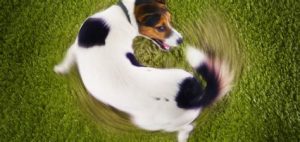 moment, they will modify their behavior, adopting a form of godliness but denying the transformative power.
Reaching this person is exponentially worse!
Even though we know the last days will be filled with people who are always chasing their tail spiritually speaking, we can't give up.  We have to keep sharing the Gospel and Biblical truths.  Prayerfully, we commit them to the Lord and ask God to open their eyes to see the truth.
Perhaps soon, they will stop chasing their tails and will give their lives to Christ.