Dog treats!  Who in the world would have ever thought I would purchase dog treats?  And, yet, here I am.  My dog is partial to Purina's Beggin Strips and she has trained me well to be conscious of when her supply is running low.  Sometimes, she will get something bigger that will occupy her for an hour or so.  And, my wife has these little bite-sized dog treats that she uses when trying to teach the dog a trick.
My dog isn't any different than yours.  They all respond to dog treats for one simple reason:  animalistic selfishness.  We want them to fetch the ball, roll over, shake hands, and do all sorts of tricks.  They just want the treat and are willing to do whatever it takes to get it.
The treat is used to condition the animal's response.  The dog knows that it will receive a treat after it does what the owner is coaxing it to do.  However, withhold the treat and it's very likely that the dog will get bored with the "game" and just walk away.
When you think about it, aren't we a lot like the dog with the treats when it comes to God?  We do a lot of begging and if I can get one of God's "treats" to do something, I will do it.  We make deals with God that are so good, He has to jump on the opportunity – or so we think.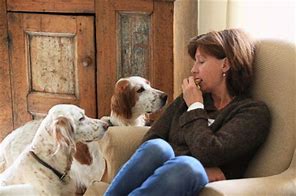 First of all, let's understand that God doesn't give us "treats" for good behavior.  He gives gifts as an act of His agape love.  John 3:16 says, "For God so loved (agape) the world that He gave His only begotten Son…"  And, Ephesians 2:4-5 says, "But God, who is rich in mercy, for his great love wherewith he loved us,  (5)  Even when we were dead in sins, hath quickened us together with Christ, (by grace ye are saved;)." 
The gift of salvation is the greatest gift offered by the Lord.  Agape love is the sacrificial love that gives this gift.  It gives without expectation of reciprocation.  Yes, the gift of Jesus calls for a response.  But the giving of the gift wasn't contingent on the response.
Every other gift that the Lord gives comes out of His deep well of love.  We are told in Matthew 7:11, "If ye then, being evil, know how to give good gifts unto your children, how much more shall your Father which is in heaven give good things to them that ask him?"  Parents give gifts to their children out of love.  How much more is this true of the Heavenly Father?
Secondly, we should not serve God for what we can get.  That is the wrong motivation.  That's a dog begging for a treat.  Instead, we serve the Lord out of love and gratitude.  1 John 4:19 says, "We love him, because he first loved us."  This agape love is seen in our obedience to the Lord and our love for others.  It is a response to the love already shown to us and implanted in us at salvation.
Finally, our love, obedience and worship for the Lord isn't based on the Lord's rewards.  Job said it best after experiencing some of the greatest loss known to man.  "… Naked came I out of my mother's womb, and naked shall I return thither: the LORD gave, and the LORD hath taken away; blessed be the name of the LORD." (Job 1:21)
Some days are bad days.  We experience loss.  There's sickness, sadness, and calamities of every nature.  These things, though, don't cause us to walk away from the Lord if we truly love Him.  We still love, obey, and worship Him because He is worthy.
Christian, let's stop panting and begging God for more.  We aren't a dog and He isn't tossing out treats.  God has already given us far more than we deserve.  Thank Him today for those blessings and serve Him with a renewed joy and excitement.