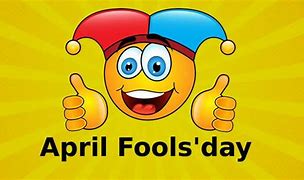 This is April Fool's Day.  Origins of this celebration are debated.  Some trace it as far back as 1392 and a reference in Chaucer's The Canterbury Tales.  Writers from 1508, 1561, and 1686 have all been credited as having coined the concept.
Regardless of who invented the day, it has been a time of good-natured practical jokes.  One of the earliest jokes was a ruse in 1698 to get a group of people to come to the Tower of London to see the lion's washed.  Sure enough, a group showed up.
Through the years, several award-winning pranks have been pulled.
The BBC ran a program in 1957 for April Fool's Day, supposedly showing farmers picking freshly grown spaghetti in what they called The Swiss Spaghetti Harvest.
1965 was the year Smell-o-Vision was offered. The power of persuasion is mighty because many viewers called the BBC to report the success of these aromatic waves emanating from their television sets.
Annually, NPR includes fictional stories in their news broadcasts every April 1.
In 1993, a San Diego radio station said that the space shuttle had been diverted to a local airport. About 1,000 people arrived to see it, only to be severely disappointed.
1996 was the year that Taco Bell said they had purchased the Liberty Bell to reduce the country's debt. It was renamed The Taco Liberty Bell.  The White House press secretary was asked about this and he replied that the Lincoln Memorial had also been sold.  It was now the Lincoln-Mercury Memorial.
Colleges don't want to be left out.  For years, they have used April Fool's Day to announce that they were changing their mascot to something ridiculous.
While many have fun on this day playing practical, silly jokes, let's consider the person who is a fool every day of the year.  Psalms 14:1 says, "The fool hath said in his heart, There is no God. They are corrupt, they have done abominable works, there is none that doeth good." 
When a person believes that there is no God, they become a god unto themselves.  They determine what is right and wrong.  They set the standards for their life.  They live as if they have all the answers for when they die and eternity.  Such a person is going to be very unpleasantly surprised.
"And he spake a parable unto them, saying, The ground of a certain rich man brought forth plentifully:  (17)  And he thought within himself, saying, What shall I do, because I have no room where to bestow my fruits?  (18)  And he said, This will I do: I will pull down my barns, and build greater; and there will I bestow all my fruits and my goods.  (19)  And I will say to my soul, Soul, thou hast much goods laid up for many years; take thine ease, eat, drink, and be m
erry.  (20)  But God said unto him, Thou fool, this night thy soul shall be required of thee: then whose shall those things be, which thou hast provided?  (21)  So is he that layeth up treasure for himself, and is not rich toward God." (Luke 12:16-21)
This April Fool's Day, be careful not to cross any Biblical lines as you prank someone.  And remember those who are fools by the Biblical definition.  There's nothing funny about their day and certainly nothing funny about their future.