Imagine becoming a multimillionaire in about six months and being the poster child for the "dumbest idea that paid off."  That's exactly what happened to Gary Dahl in 1975.
Gary was born in Bottineau, North Dakota, but raised in Spokane, Washington.  His mom worked as a waitress and his dad was a lumber mill operator.  Neither profession appealed to Gary so when he went to college, he studied marketing and advertising.
After graduation, he worked as a freelance copy editor before opening his own agency called Gary Dahl Creative Services in Campbell, California.
One night, Gary was sitting with some friends in a bar, listening to them complain about their pets.  The light bulb of ingenuity sparked a bright idea that began as an off-handed comment and quickly formulated into a business.  Why not have a pet rock?
By the middle of 1975, Gary was selling pet rocks along with a 40-page care manual for $3.95 each.  The rock was sold in the local hardware store.  It came from Rosarito in Baja California, just 10 miles south of the U.S. border in Mexico.  The rocks cost a penny a piece.  And the manual cost nothing to produce because it was added on to another vendor's order, making them absorb the cost.
The rock was in its own carrying box, complete with ventilation holes and nestled on a bed of shredded paper.  Emblazoned in bold letters on the side of the box were the words, "This box contains one genuine pedigreed pet rock."  In smaller script at the top, it said, "IMPORTANT:  Open box carefully.  DO NOT remove rock before reading instructions."
The selling point was that "The Pet Rock was hypoallergenic, didn't bark, bite, shed or poop on the floor. It could be left alone for extended periods of time without imposing on a neighbor to let it out or feed it. It got along with your other pets and, best of all… no vet bills!"1
Sales went through the roof, especially during Christmas 1975.  By February 1976, though, the Pet Rock had lost its appeal and quickly fizzled.  Perhaps disgruntled customers found the rocks to be untrainable or it was discovered that they were poor companions.  Whatever the reason, the 1.5 million sets sold would have grossed $5,925,000.  Guess it wasn't such a dumb idea after all!
Even though I would have been 8 years old in 1975 and would certainly have been a responsible pet rock owner, I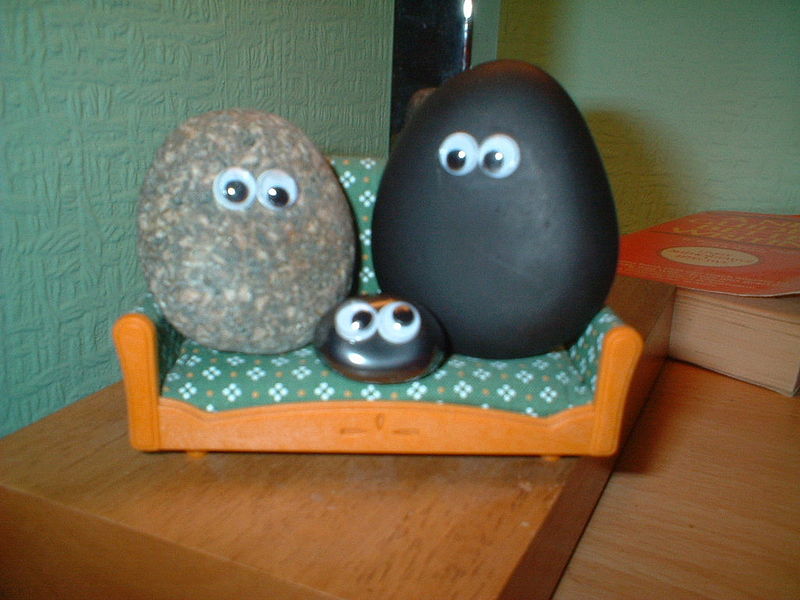 was deprived of this cherished part of nostalgia.  I am not bitter nor saddened by the parental neglect I suffered in this matter.  Instead, I am reminded of a passage of Scripture found in Psalm 135.
Psalms 135:15-18 says, "The idols of the heathen are silver and gold, the work of men's hands.  (16)  They have mouths, but they speak not; eyes have they, but they see not;  (17)  They have ears, but they hear not; neither is there any breath in their mouths.  (18)  They that make them are like unto them: so is every one that trusteth in them."
The idols of Bible days were no different than the idols of today.  And they are just as foolish – and responsive – as a pet rock.  The Psalmist talks about those idols having mouths, eyes, and ears that do not perform their expected function.  Owners of pet rocks would draw these features on their rocks.  Sometimes, they would hot glue "googly" eyes or features made with pipe cleaners to their rocks, sitting them up on edge, making them look like a face.
The rocks did not respond to their makeover.  Neither do idols.
Idolatry is not only sinful but it is foolish.  To create something to idolize and worship in hopes that it will listen and converse is ridiculous.  This doesn't stop people from doing it, though.
As Christians, we serve the living God.  He is our Savior.  We need to carefully guard our lives from anything that might become an idol, stealing away our time, attention, and devotion to the One and True God.
Having idols makes us dumber than a box of rocks!
1https://groovyhistory.com/pet-rock-history-fad