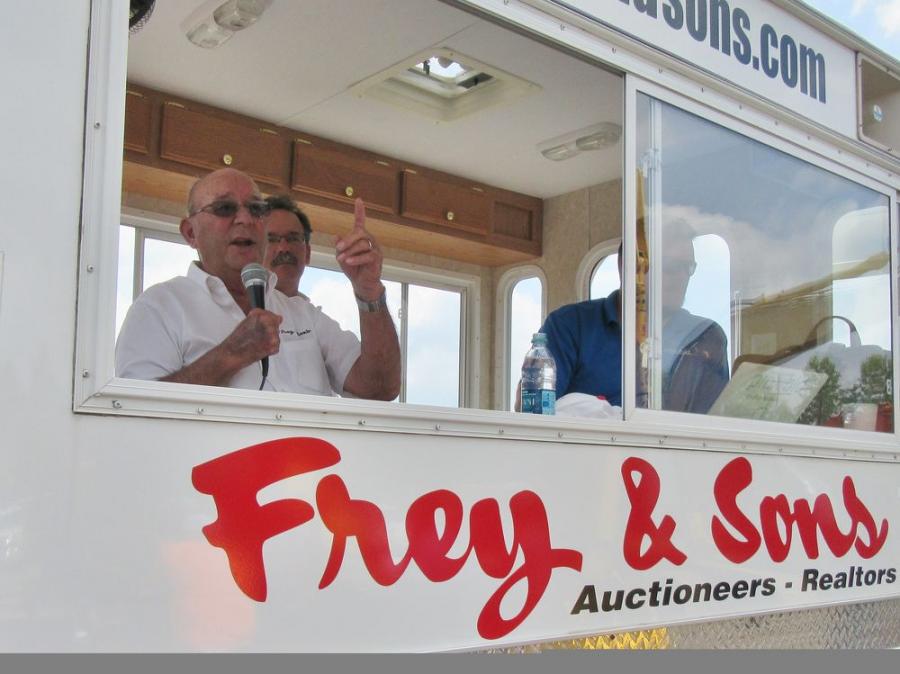 My wife really enjoys going to auctions.  She will look online or in The County Line for upcoming auctions.  She can spot an "Auction Pending" sign a mile away!  I don't know if it is the fellowship, the competitive atmosphere, or just the "thrill of the hunt" that excites her.  I do know that she enjoys certain items from the Susie's Lunch and Catering truck.  Whenever she finds an interesting auction, she's ready to go.
And, she is one of the thriftiest shoppers I know.  She spends very little and always comes home with bargains and treasures.  Seldom has she bought something at an auction that is exclusively hers.  As she scopes out the tables in advance, she envisions the need of someone else and makes a plan to get the item for them.  Typically, they haven't asked for her to watch out for a particular item.  She is just that tuned in to others.
The first time I went to an auction educated and soured me.  I had some metal shelves in mind for the basement.  I'm cheap so I wasn't going to spend much.  When the bidding started, I realized how many people are willing to pay anything for what they want.  I could have gone to the store and bought them brand new for almost $30 less per unit than the person winning with the final bid.
As I was walking around, I spotted an older man that I've known for years and he was bidding on something.  He said, "Watch this," and he started running the bid up.  Finally, with a look of satisfaction on his face, he folded his arms and watched someone bid an excessive amount.  I was dumbfounded.  His response was, "If they are going to take it away from me, they're going to pay for it!"  Note to self:  don't EVER bid against this guy!
While preparing this devotional, I ran across a blog and the title was "Faith and Action."  What I saw was "Faith and Auction."  This little mental slip instantly told me why I don't like auctions.  My faith is sorely lacking.
James 2:17 says, "Even so faith, if it hath not works, is dead, being alone."  I know…this is taking the verse a wee bit out of context.  The context is about the person who claims to be saved by grace through faith but doesn't have works to back up their claim.  That person's faith is dead.  "But wilt thou know, O vain man, that faith without works is dead?" (James 2:20)  We are not saved BY works but we are saved to DO works.
My application is where my faith is lacking.  If faith is present, it must be expressed in action.  Put simply, faith bids.  And, I don't bid.  I wait to see what everyone else does.
Not only does faith bid but faith believes.  Here's an important distinction that must be made.  Faith isn't walking into to that bidding circle, letting God know what you're wanting, and then claiming it as your own.  There is a whole theological system built on that false doctrine.
Here's what faith believes, even at an auction.  "And this is the confidence that we have in him, that, if we ask any thing according to his will, he heareth us:  (15)  And if we know that he hear us, whatsoever we ask, we know that we have the petitions that we desired of him." (1 John 5:14-15)
They say confession is good for the soul?  Well, I'm confessin'!  When I've bid and didn't get what I want, I was thoroughly disgusted and grumpy.  OK…I pouted!  I felt like I waited around for nothing and wasted my time.  What was the point?!?  And, it is a long time before I go to another auction, much less bid at an auction.
My wife may lose the bid.  But, she is content in knowing that this wasn't what the Lord had for her and she just moves on to the next item up for bid that she wants.  And, she moves to the new item with the same faith that she had on the previous item.  If she leaves the auction with nothing, she praises the Lord for the fun, the fellowship, for Susie's, and for the enjoyable time.  THAT, folks, is faith in action at the auction.
While this moment of self-awareness has taught me something about myself as well as my wife, I'm still not a huge fan of auctions.  For those who love auctions, God bless you!  May your bid be blessed and guided in faith!