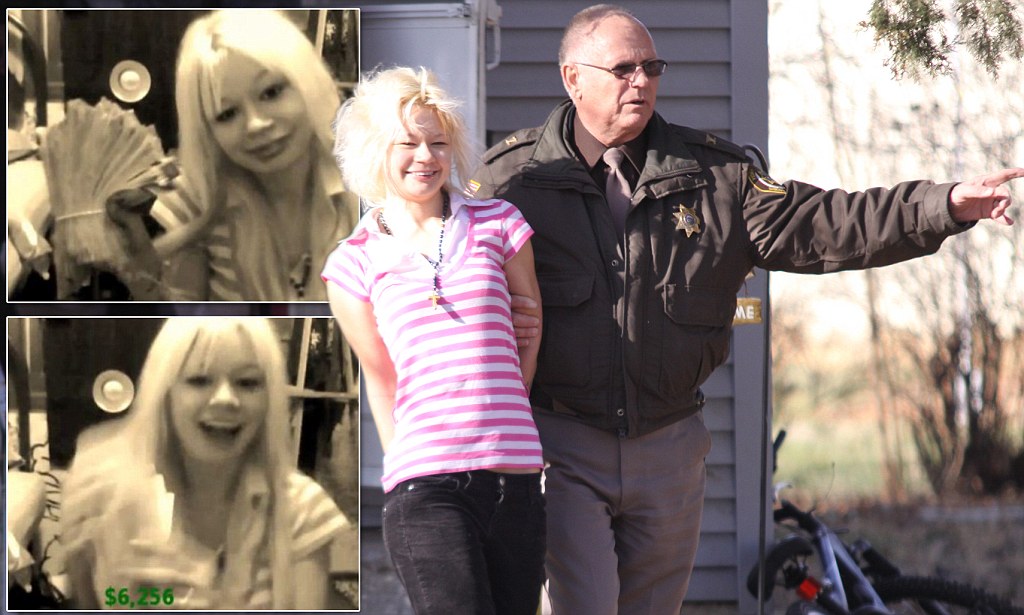 This has to be one of the most unbelievable stories.  I have checked the accuracy of the story and sadly, it is true.  It's the story about 19-year-old Hannah Sabata from Stromsburg, Nebraska.  Evidently, she was married and had a baby.  This baby had been taken away from her by the authorities due to neglect.  In her mind she concocted a plan to show the world how much in control she was of her life and situations.
The plan was simply this.  Steal a car.  Rob the bank in nearby Waco, NE.  Then, hurry home to create a YouTube video, bragging about your escapades.  Title the video Chick Bank Robber.  Great plan, huh?  If you're curious, you can watch the video.  It's still available.
In the video, Sabata uses a rock song in the background while she writes what she wants to say on poster board and holds it up for the camera.  Just to insure you get the message, she supplies subtitles.  While holding up the keys, she lets us know that she took a "shiny new Pontiac."  Then, she holds up a sign saying, "Then, I robbed a bank."  The video continues with her fanning herself with the wad of bills while the caption says, "$6,256."  Towards the end of the video, she declares that even though her baby was taken away from her by the government because of neglect, "she can still find purpose."
Guess who saw this on YouTube.  The authorities!  And, when they sent out word through social media, asking if anyone has knowledge of her identity, her ex-husband and ex-mother-in-law turned her in.  When police showed up at her door and executed a search warrant, they found the license plates of the car she stole, the keys, and all of the bank's money minus $30.
In 2012, Hannah was arrested, charged, convicted and incarcerated.  Could things possibly get worse?  Run the clock ahead to 2013 and she was released on an early parole – which didn't last long before she landed right back in prison.  Then, a news article from April 8, 2020 says that she has assaulted a corrections officer and is being charged with a Class 3A felony.
Psalms 14:1 says, "The fool hath said in his heart, There is no God. They are corrupt, they have done abominable works, there is none that doeth good."  This is said in the heart.  There was no outspoken declaration.  How do you know the fool is saying this in their heart?  Because it comes out loud and clear in the actions.
Perhaps we think that losing your child to the courts would be a sufficient wake-up call.  This would make you "straighten up and fly right."  In the lives of those who are wise or, at least, teachable, this would be sufficient.  But Solomon said "… it is abomination to fools to depart from evil." (Proverbs 13:19).  Fools just keep getting into more trouble, never learning their lesson, and compounding their error.  To them, it's an abomination to do the right things.
Our temptation is to shake our heads with disgust, incredulous that anyone could be so … well… foolish.  What Ms. Sabata needs is not our condemnation or pity.  She needs Jesus.  She needs salvation.  She doesn't need a fresh start in life.  She needs a fresh life where she is forgiven by God, cleansed of unrighteousness, and made a "new creature in Christ Jesus."  I cannot help but wonder if anyone has ever told her how to know Jesus and how to make wise decisions.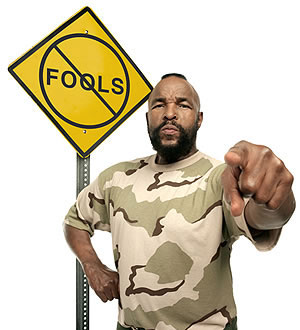 The Bible makes very clear the eternal fate of the foolish.  They currently anger God and grieve others.  Ultimately, those who choose to remain fools will have all of eternity in hell to consider their foolishness.
By Biblical definition, fools and foolish people abound.  Their need is the same and we have the answer.  The majority of fools will choose to remain fools.  However, there will always be someone who responds to the Gospel, turning from their foolish ignorance of God, and receiving Him as Lord and Savior.
What a joy to be a part of helping a fool get off of the Fool's Highway!