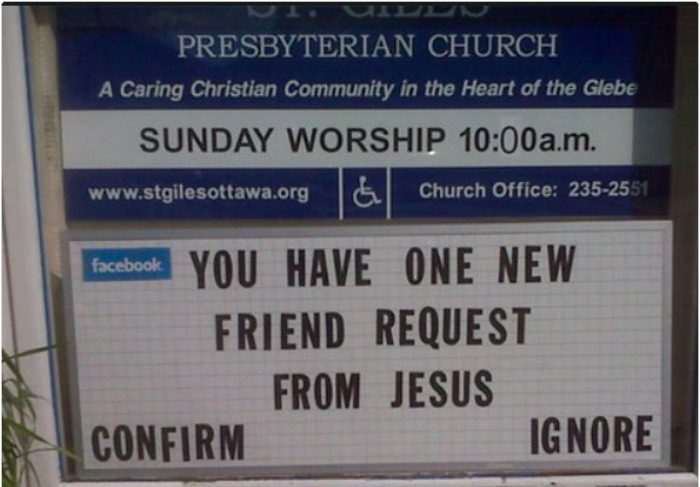 We are continuing our devotional series, looking at some theology found on church signs.  Sometimes, those short and pithy marquee messages pack a wallop!  They are "punny" yet potent.  A few signs even convey a wrong message which becomes a message in itself.   This opening paragraph and little disclaimer will accompany each devotional:  The use of the church sign's message in no wise constitutes an endorsement of the church or denomination.  With that in mind…
Yesterday, we talked about the technology of cellphones.  Smartphones are owned by 81% of Americans.  By the age of 11, 53% of children have a smartphone and 84% of teens have one.  You would think everyone is communicating more these days.  Not really.  Everyone is updating their social media status!
"You have one new friend request from Jesus."  Friend requests come from several social media platforms.  And, the definition of "friend" is loosely interpreted.  You can be "friends" with people you will never meet, following their posts and staying up-to-date on what they are doing.
Truthfully, that doesn't sound like "friendship," does it?  Yet, millions of people will be friends with others.  Jesus offers something far better.
In Matthew 11:28, Jesus said, "Come unto me, all ye that labour and are heavy laden, and I will give you rest."  He has invited you to know Him personally.  Once you do, it is a relationship where the knowledge of the Lord grows as you spend time with Him.
In the hymn How Long Has It Been, Jim Reeves wrote, "Can you call him your friend how long has it been since you knew that he cared for you?"  Jesus wants to be not just your friend but your Savior.  Confirm or ignore?
"Jesus more than likes you."  Our narcissistic society wants everyone to like everything about them.  You consider it a good day if someone "likes" your picture or post.
Forget being liked.  Jesus LOVES you.  John 3:16 starts with, "For God so loved the world…"  And, 1 John 4:19 says, "We love him because He first loved us."
Look carefully at this sign.  In the middle of the "like" icon, you see a bloodied hole, reminding us that Jesus was nailed to the cross for us.  That's great love and far more valuable than being "liked."
"No…not Twitter.  I literally want you to follow me. – Jesus."  Twitter is a social media platform that allows someone to create a small message using 280 characters.  You can sign up to follow a particular individual and as soon as they tweet, you get their message.  Who would want this?  you ask.  How about 330 million monthly active users!
Imagine what would happen if the church was hungry for every tweet Jesus sent out.  In Matthew 4:4, we read, "But [Jesus] answered and said, It is written, Man shall not live by bread alone, but by every word that proceedeth out of the mouth of God."
There are 788,258 words in the Bible.  That is a whole lot more than 280 characters – probably several million characters.  Perhaps we should start following Jesus' tweets and not worry about what others are tweeting.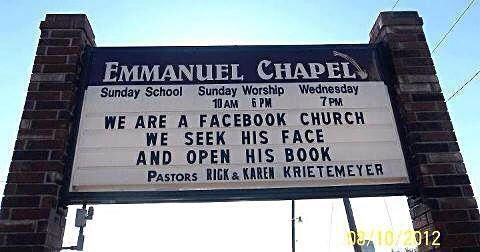 Following Jesus will take up all our time.  And, it should!
I want to close with a sign that requires no explanation or elaboration.  A simple "thank you, Lord" will suffice.
"We are a Facebook church.  We seek His face and open His Book."