I have to admit that this is a devotional I wrestled with.  It wasn't that I struggled with the concepts.  I struggled with UNDERSTANDING or differentiating between the concepts.  I couldn't even come up with a better way to introduce the devotional than this.  All I could do is jump in feet first into the deep end of the pool.
Galatians 5:22 says, "But, the fruit of the Spirit is…gentleness, goodness…"  I know that God does not stutter but these words seem to have very similar meanings.
Gentleness:  chrestotes; moral goodness, integrity, kindness
Goodness:  agathosune; uprightness of heart, kindness
See what I mean?!?  They seem to be saying the same thing.  Maybe you say, "Those Greeks were so complicated!"
Well, the English language is no better.
If I say, "That is a beautiful, lovely mountain scenery!  I just LOVE it!" what's the difference between my two adjectives?  And, what do I mean when I use the word "love?"  Right now, some of you are saying, "I hope tomorrow's devotional is better than this and we don't have to think so hard!"   Amen, brother!  Me, too, sister!
Stick with me, though.  Let's sort this out because it's really good!
Gentleness carries with it the idea of being helpful or doing only that which is pleasant.  Ephesians 2:4-7 says, "But God, who is rich in mercy, for his great love wherewith he loved us,  (5)  Even when we were dead in sins, hath quickened us together with Christ, (by grace ye are saved;)  (6)  And hath raised us up together, and made us sit together in heavenly places in Christ Jesus:  (7)  That in the ages to come he might shew the exceeding riches of his grace in his kindness (gentleness – chrestotes) toward us through Christ Jesus."
This is something WE are supposed to do.  Ephesians 4:32 says, "And be ye kind one to another, tenderhearted, forgiving one another, even as God for Christ's sake hath forgiven you."  In Colossians 3:12, we are told to, "Put on therefore, as the elect of God, holy and beloved, bowels of mercies, kindness, humbleness of mind, meekness, longsuffering."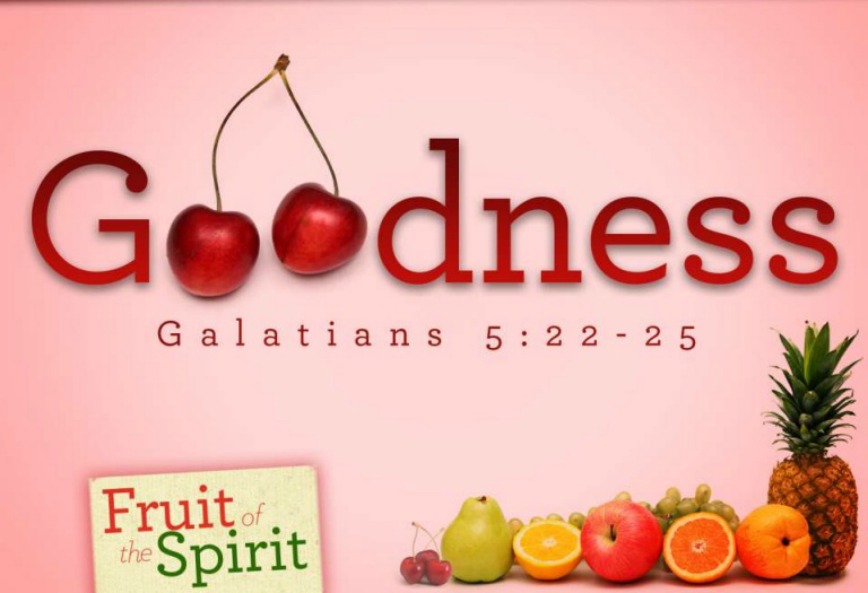 Goodness takes on a bit of a different meaning.  It is "virtue in all circumstances."  Let me see if I can illustrate this.
Suppose your child's birthday is coming up and they ask for a new bicycle.  Out of the goodness of your heart, you bought them the bike they wanted.  Nobody is going to argue that you did a good thing, right?  However, let's say that same child disobeyed and they had to be punished.  Perhaps the "board of education had to be applied to the seat of learning."  Was that a good thing?  I know that the child and liberals would say it was not but GOD says that it was. (Proverbs 13:24; 19:18; 22:15; 23:13-14)
Consider the words of Jesus in Matthew 19:16-17 – "And, behold, one came and said unto him, Good Master, what good thing shall I do, that I may have eternal life?  (17)  And he said unto him, Why callest thou me good? there is none good but one, that is, God: but if thou wilt enter into life, keep the commandments."  Is God good to tell someone they are going to heaven?  Is God good to tell someone they are going to hell?  The answer to both questions is yes!
Romans 12:21 tells us, "Be not overcome of evil, but overcome evil with good."  We do not overcome evil with slobbery kisses and affectionate gestures.  We overcome evil with TRUTH.  Truth is God's "tough love."  It is a good thing even though it may not be the tastiest or most tender meat to chew.
Because the indwelling Spirit is both gentleness and goodness epitomized, we are able to express this to others.  Tweaking the words of various authors from a Focus On The Family article:  "Goodness is a strong hand with a soft touch. It is a tender, compassionate approach toward others' weaknesses and limitations. A good person still speaks truth, sometimes even painful truth, but in doing so guards his tone so the truth can be well received."
Both qualities must flow out of our lives.  That's good fruit!