GO FLY A KITE!  Such a sentence conveys annoyance and irritation.  However, it is an appropriate thing to say on June 10th.  This is the day that Benjamin Franklin flew his infamous kite.  First, though, a bit of history on this prolific patriarch of our nation.
Benjamin was the 15th child out of 17.  His dad, Josiah, married twice.  The first wife had seven children.  The second wife, Abiah, was the mother to Benjamin and he was the 8th child of her 10.  The children were raised on the finances provided by a soap and candlemaker, the jobs Josiah did his entire career.
Benjamin only went to school until he was 10 years old.  His voracious appetite for reading, though, is what provided him with his education as he consumed any book he could obtain.
His adult years were years of great accomplishment.  The earliest undertaking of Benjamin Franklin was that of a printer.  Soon, he had begun a newspaper called The Pennsylvania Gazette.  He also was the publisher/writer of the Poor Richard's Almanack, published under his pseudo name, Richard Saunders.
Politically, his role of Statesman and Diplomat helped put the colonies on a course for independence and self-governance.  He was the only Founding Father to sign all four documents involved in the establishment of the United States.
Franklin's role in Philadelphia is hard to measure due to its enormity.  He is credited with founding the fire department, police department, library, and the American Philosophical Society.  He became the first Postmaster General over all the colonial post offices.
On top of all of this, Franklin was a scientist and inventor.  "Franklin studied a number of other topics, including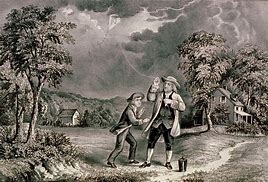 ocean currents, meteorology, causes of the common cold and refrigeration. He developed the Franklin stove, which provided more heat while using less fuel than other stoves, and bifocal eyeglasses, which allow for distance and reading use. In the early 1760s, Franklin invented a musical instrument called the glass armonica. Composers such as Ludwig Beethoven (1770-1827) and Wolfgang Mozart (1756-91) wrote music for Franklin's armonica."1  He also invented the lightning rod.
This all takes us to June 10, 1752.  Franklin had been experimenting with electricity and he believed that lightning was electricity.  During a thunderstorm, Franklin flew a silk kite with a key attached part way up from where Franklin was holding the line.  As the storm progressed, he noticed some of the silk threads attached to the key were standing straight out.  Franklin touched his knuckle to the key and immediately felt a jolt.  His theory was proven and he was able to collect electricity in a Leyden jar.2
Franklin admitted to having tried this experiment many times before.  He said that several turkeys had been killed (though no further explanation was given) and that he had been knocked unconscious several times.  Years later, people tried to duplicate Franklin's experiment and it cost them their lives!
If you remember in the Old Testament, Job had some friends who felt compelled to weigh in on his problems.  Elihu was perhaps the most gracious of the friends and he accurately brought something to Job's attention.  "At this also my heart trembleth, and is moved out of his place.  (2)  Hear attentively the noise of his voice, and the sound that goeth out of his mouth.  (3)  He directeth it under the whole heaven, and his lightning unto the ends of the earth.  (4)  After it a voice roareth: he thundereth with the voice of his excellency; and he will not stay them when his voice is heard.  (5)  God thundereth marvellously with his voice; great things doeth he, which we cannot comprehend." (Job 37:1-5)
The lightning belongs to the Lord.  It is a part of His way of communicating with humanity.  As the thunder rolls and the bolt of lightning sizzles across the sky, we are captivated by its beauty yet we tremble with fear at its lethal power.  The brilliance can illuminate a night sky and it hurts our eyes like watching an arc welder.
One day at the end of the Tribulation Period, Jesus is going to return.  Luke 17:24 says, "For as the lightning, that
lighteneth out of the one part under heaven, shineth unto the other part under heaven; so shall also the Son of man be in his day."  The return to the earth of the Lord Jesus Christ will be both a beautiful and fearful thing.
As the thunderstorms of summer roll through, take a moment to safely appreciate the power and beauty of the lightning.  Don't run any Franklin-ish experiments.  Just observe that lightning from your window, imagining what it's going to be like on the day when Jesus returns to earth.
What a day that will be!
1https://www.history.com/topics/american-revolution/benjamin-franklin
2https://www.kite.org/about-kites/history-of-kites/kites-benjamin-franklin/#:~:text=In%20June%20of%201752%20Benjamin%20Franklin%20began%20to,jar%20in%20the%20presence%20of%20an%20electric%20charge.