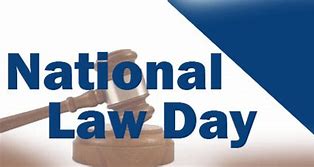 By declaration of President Dwight D. Eisenhower, May 1, 1958 was the first Law Day.  It was codified by Public Law 87-20 on April 7, 1961.  The purpose of the day is to reflect on the necessity of Law to the founding and preserving of our country and democracy.  Without law, society would succumb to anarchy or become a dictatorship.
"Law Day provides an opportunity to understand how law and the legal process protect our liberty, strive to achieve justice, and contribute to the freedoms that all Americans share."1
The idea of a Law Day was proposed to the President by his legal counsel, Charles S. Rhyne.  Believing this to be something worth recognizing, President Eisenhower stated, "In a very real sense, the world no longer has a choice between force and law. If civilization is to survive it must choose the rule of law."2 
Throughout the United States, bar associations, courts, lawyers, and law schools will put on programs that highlight the necessity of a civilized society to be governed by the rules of law.  And, since 1958, the President of the United States has issued a Law Day proclamation where he acknowledges the value, importance and necessity of law.
Many times, when the Christians and church assemble and "the Law" is mentioned, we think of something entirely different.  Yes, we would agree that the law of the land is important.  However, we think of a different law – the Law of God as handed down through Moses.  This is a law to be celebrated.
David wrote in Psalms 19:7, "The law of the LORD is perfect, converting the soul: the testimony of the LORD is sure, making wise the simple."  How does the law do this?
Galatians 3:23-25 says, "But before faith came, we were kept under the law, shut up unto the faith which should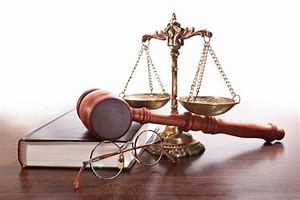 afterwards be revealed.  (24)  Wherefore the law was our schoolmaster to bring us unto Christ, that we might be justified by faith.  (25)  But after that faith is come, we are no longer under a schoolmaster."
To see the need for the Savior, we needed to see that we were sinners.  The Law was given to show us that we cannot keep it.  (Romans 7:7)  When laws are broken, there are consequences.  Breaking God's Law brings condemnation.  (Romans 8:1)
We entered this world as sinners.  We were conceived in sin.  We were already under God's condemnation.  But how were we able to know this?  The Law was given which was impossible to keep to show us that we needed the Savior.
When we were saved, we were released from the condemnation that the Law imposed.  I am no longer viewed as "guilty."  Rather, I'm forgiven.  Does this mean that I'm now free to do whatever I want?
"What shall we say then? Shall we continue in sin, that grace may abound?  (2)  God forbid. How shall we, that are dead to sin, live any longer therein?" (Romans 6:1-2)  So, what is the "law" that governs the life of the Christian?
Matthew 22:37-40 – "Jesus said unto him, Thou shalt love the Lord thy God with all thy heart, and with all thy soul, and with all thy mind.  (38)  This is the first and great commandment.  (39)  And the second is like unto it, Thou shalt love thy neighbour as thyself.  (40)  On these two commandments hang all the law and the prophets."
John 13:34-35  – "A new commandment I give unto you, That ye love one another; as I have loved you, that ye also love one another.  (35)  By this shall all men know that ye are my disciples, if ye have love one to another."
L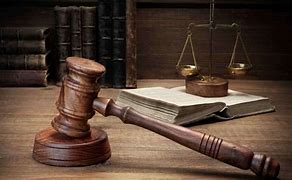 oving the Lord with our all is proven through our obedience to His Word.  Then, following through, we demonstrate God's love to our brothers and sisters as well as to our "neighbors."
The rule of God's Law in the hearts of the Christians allows us to live in peace and harmony.  It pleases the Father.  And, if it rules in our hearts, the effects will spill out into our society.
We celebrate our own Law Day because it was the Law that brought us to Christ.
1 https://www.americanbar.org/groups/public_education/law-day/history-of-law-day/
2David Ray Papke, "Law, Cinema, and Ideology: Hollywood Legal Films of the 1950s", 48 UCLA L. Rev. 1473, 1490 (2001).