When the tones drop on our Fire Department pagers, one of the things we do not want to hear is "fully involved structure fire with flames showing."  Upon arriving on the scene, the building is complete engulfed and the flames are visible through windows, doors, the roof, and the siding.  Thankfully in my years on the department, the loss of life from such an event has been very minimal thanks to one major thing.
Smoke detectors.
Frances Robbins Upton, an associate of Thomas Edison, is credited with inventing the first electric fire alarm in 1890.  By 1955, a home version fire detector was invented.  This unit responded to heat, though, rather than smoke.
Ten years later, Duane D. Pearsall invented the first economical single home-version smoke detector.  Smoke
detectors were more sensitive, responding to fine particles of smoke rather than waiting for temperatures to rise dangerously.  By 1975, smoke alarms were being mass produced at the rate of 500 per day.  The cost?  $125 per unit!  Today, the lowest priced smoke alarm at Walmart is $6.29.
According to First Alert, "the National Fire Protection Association (NFPA), smoke alarms should be installed on every level of your home, including the basement. Fire detectors should also be installed inside of every bedroom and outside of each sleeping area. For example, a two-story home with three bedrooms should have at least seven smoke alarms… There is no such thing as having too many smoke alarms in your home!"
Homes equipped with functioning smoke alarms are warned with an ear-piercing howl that smoke is in the air.  You don't wait for the house to be fully engulfed to get out.  You get out immediately and call 9-1-1.
The Lord told Israel in Ezekiel 3:16-17, "And it came to pass at the end of seven days, that the word of the LORD came unto me, saying,  (17)  Son of man, I have made thee a watchman unto the house of Israel: therefore hear the word at my mouth, and give them warning from me."  The trumpet was to sound an alarm, warning Israel of their sin and God's looming judgment.
Further reading of Ezeki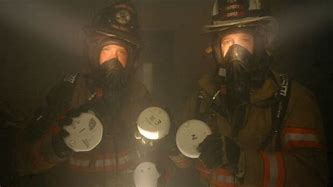 el shows that if the watchman failed to sound the alarm, he was in big trouble with God.  But if he faithfully warned Israel and they ignored him, he was not responsible for what was about to happen.
Here in the last days, Paul said that "the time will come when they will not endure sound doctrine; but after their own lusts shall they heap to themselves teachers, having itching ears." (2 Timothy 4:3)  Religious people flock to hear the weekly positive, motivational pep-talk from their favorite cheerleader.  They will seek out the church that has the best "rah-rah squad" – the band and praise team that pumps up the crowd, serving as the opening act for the main event.
The pastor and the Sunday School teacher who faithfully teach God's Word, "reproving, rebuking, and exhorting with all longsuffering and doctrine," (2 Timothy 4:2) are deemed negative, legalistic, and out-of-step with what's going on in the world.  Their message is rejected.
However, they are doing their job.  They are smelling smoke and like a good smoke detector, they are sounding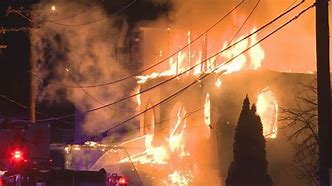 the alarm, loudly and clearly.  If they were to wait until the structure was fully involved "just to be sure that there's an actual fire," it's too late.  Irreparable damage has been done.   Lives have been lost.  And the whole scene is nothing but tragedy.
We need more spiritual smoke alarms in operation today with fully charged batteries — the Word of God and the Holy Spirit energizing that alarm.  And we need to heed the warnings rather than dismissing them as false alarms.  Keep dismissing the alarm and one day, it will be too late.