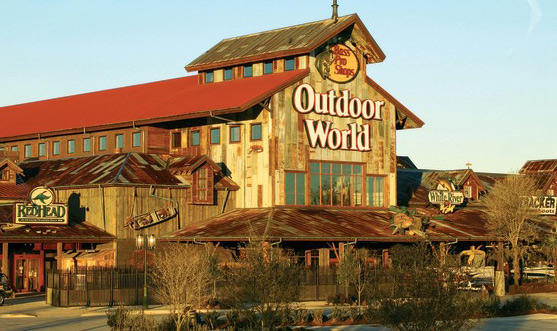 Twenty-six-year-old Kevin Wise of Slidell, LA, did something very unwise.  He decided to swim in the Bass Pro Shop aquarium in Bossier City, LA.  On June 29th, 2020, he jumped in the tank dressed in khaki shorts, dark shirt, and tennis shoes.  Crossing the aquarium, he struggled getting out but once he did, he ran up an aisle and right out the door.
This seemingly harmless prank is going to be expensive!  Mr. Wise has to appear in court because he has been charged with simple criminal property damage.  Bass Pro Shop said that it is going to cost to drain, clean, and refill the 13,000-gallon tank and they aren't going to pay for it!
Why in the world would he have done such a thing?  Mr. Wise wanted "to follow through on a promise he made to followers on the social media platform TikTok.  'I said that if I got 2,000 likes I would jump in the tank.  I got way more than that and didn't want to be a liar."  https://www.bostonglobe.com/2020/06/29/nation/police-reel-louisiana-man-captured-swimming-bass-pro-shop-fish-tank/
As I read the story, the only redemption for this man's sophomoric swim is his integrity.  He had given his word and, though foolish as it might have been, he was going to follow through on what he said he was going to do.  Does that justify his actions?
We need to first consider this thing called integrity.  Psalms 25:21 says, "Let integrity and uprightness preserve me; for I wait on thee." The Psalmist goes on to say in Psalms 26:1, 11,   "Judge me, O LORD; for I have walked in mine integrity: I have trusted also in the LORD; therefore I shall not slide…But as for me, I will walk in mine integrity: redeem me, and be merciful unto me."
Integrity means complete, whole, full, or innocent.  The English word is based from another mathematical term:  integer.  An integer is a whole number without any fraction.  When you see a number that is an integer, you don't ask if there is any more or less.  It is complete and whole just as it is.
Integrity acts in innocence and wholeness.  And, when mistakes have been made, integrity owns those mistakes, claiming responsibility and making restitution if necessary.  After the stunt, Mr. Wise returned to the store.  Perhaps it was guilt and he wanted to apologize.  Maybe he wanted to see if anyone recognized him.  We aren't told why he returned.  However, doing so showed integrity in the midst of some very convoluted thinking.
What would have been the wise thing for Mr. Wise to have done?  He should have got on his social media page and said something like this:  "I said that if I got 2,000 likes, I would jump in that tank.  Such a statement was foolish and reminiscent of children on the playground being taunted by someone saying, 'I double-dog-dare ya!'"  I blame nobody but myself for having created such a foolhardy scenario.  After applying some thought and wisdom to my promise, I must humbly ask your forgiveness and understanding as I rescind that promise.  To jump into the Bass Pro Shop aquarium would be trespassing and would create a criminal liability, an example that I will not set for others and consequences I do not want to experience for myself.  Before making future statements, I will do a better job considering the ramifications of my actions and choose my words more carefully.  Sincerely, Kevin Wise."
Lapses in judgment doesn't necessarily mean that we lack integrity.  We all fail and do foolish things we regret.  Now, if we make a habit of doing this, our integrity is questionable.  But one, imbecilic stunt – or a foolish statement to the press or a meltdown at work – doesn't mean we lack integrity.  What did we do AFTER we failed?
Integrity must be a quality maintained in our lives as Christians.  Without it, our witness is compromised and damaged, possibly beyond repair.  Deal with everyone in integrity.
To his credit, Mr. Wise removed his coronavirus mask and hat before jumping in the aquarium!