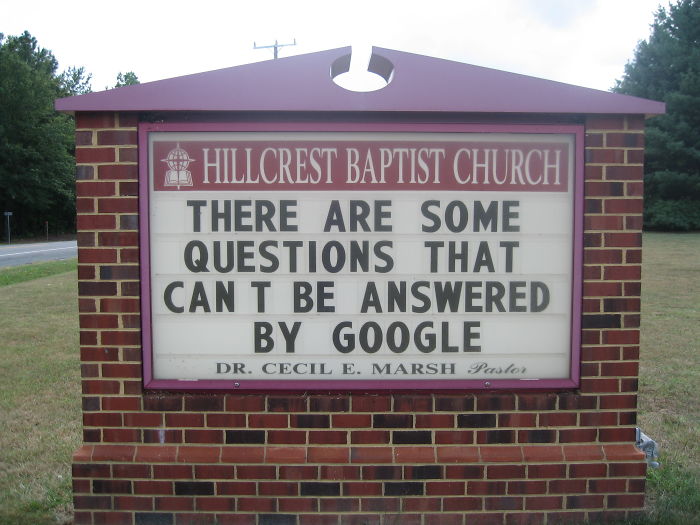 We are continuing our devotional series, looking at some theology found on church signs.  Sometimes, those short and pithy marquee messages pack a wallop!  They are "punny" yet potent.  A few signs even convey a wrong message which becomes a message in itself.   This opening paragraph and little disclaimer will accompany each devotional:  The use of the church sign's message in no wise constitutes an endorsement of the church or denomination.  With that in mind…
"There are some questions that can't be answered by Google."  Stanford University doctoral students Sergey Brin and Larry Page founded Google in 1998.  Their project actually began in 1996 as they tried to develop a search engine for the Internet.  Today, Google is the most visited website.
With my smartphone, all I have to do is say, "OK, Google," it chirps and I ask it a question.  It takes me longer to spit out the question than it does for Google to find the answer.   My Google assistant is set up to have a British female voice and within a second, her vocalized answer is given.
Just for fun, I said, "OK, Google…is there anything you don't know?"  She responded back, "There's plenty I don't know.  Like whether or not there are Ais (artificial intelligence) on other planets."  She even gave me a little alien icon.  How sweet!
Is there anything that God doesn't know?  1 John 3:20 says, "For if our heart condemn us, God is greater than our heart, and knoweth all things."  Matthew tells us that the hairs of our head are numbered.  1 Kings 8:29 tells us that God knows the hearts of all mankind.  And, Isaiah 46:10 tells us that the Lord "declares the end from the beginning."  To answer the question, God knows everything!
While I may not be able to open God's Word and find the specific answer to a calculus problem or a chemical equation, I know that the Lord knows those answers and He has told me to do something.  "If any of you lack wisdom, let him ask of God, that giveth to all men liberally, and upbraideth not; and it shall be given him."  (James 1:5).
Did you know that it has been proven that kids who memorize God's Word get better grades in school?  It should not surprise us that tucking away in our hearts the Words of the One who knows everything is going to help us in all areas of life.
Google can't do this.  God can.
"Why pay for GPS?  God gives direction for free."  Global Positioning System.  Years ago when my wife and I were dating, I would travel to her home in Kentucky every weekend.  At that time, you had a trusty atlas and you mapped your route "old school."  I would leave at midnight on Friday and get to her house at about 7:30 a.m. with one stop for gas in between.  Awwwww!  Ain't that sweet?  Such love!
Many years later after being married and moving to Ohio, we had acquired a GPS device.  Breaking away from the trusted atlas to an unproven electronic device was hard at first.  What does it know?!?  Come to find out – a LOT!  By following the GPS, I shaved about 90 minutes from the trip to visit her family.  The GPS was able to "see" a better route that I couldn't see, even though I had done my best to create the best route.
Today, I don't even own an atlas.  Why would you want one when a GPS is so much more convenient, intelligent, and trustworthy?  Sure, there are times it has lost its mind or I've lost a signal.  But it's only temporary and I will take its accuracy any day over my best routing with a map.
Proverbs 14:12 says, "There is a way which seemeth right unto a man, but the end thereof are the ways of death."  In life, we may think that we are on the right path.  We have done our best.  But our way is a way of destruction and ultimate failure.  This is true pre-salvation as well as post-salvation.
Instead, we need to heed what the Lord told David in Psalm 32:8.  "I will instruct thee and teach thee and teach thee in the way which thou shalt go; I will guide thee with Mine eye."
God's GPS for our life never loses its signal or its mind.  It's always accurate and spot on!  The Lord tells us how to spend eternity in Heaven rather than Hell and that's by trusting Jesus as our Savior.  Then, the Lord tells us how to live the Christian life.
And, all of God's directions are free for the taking!  Help yourself today to all the direction He offers.