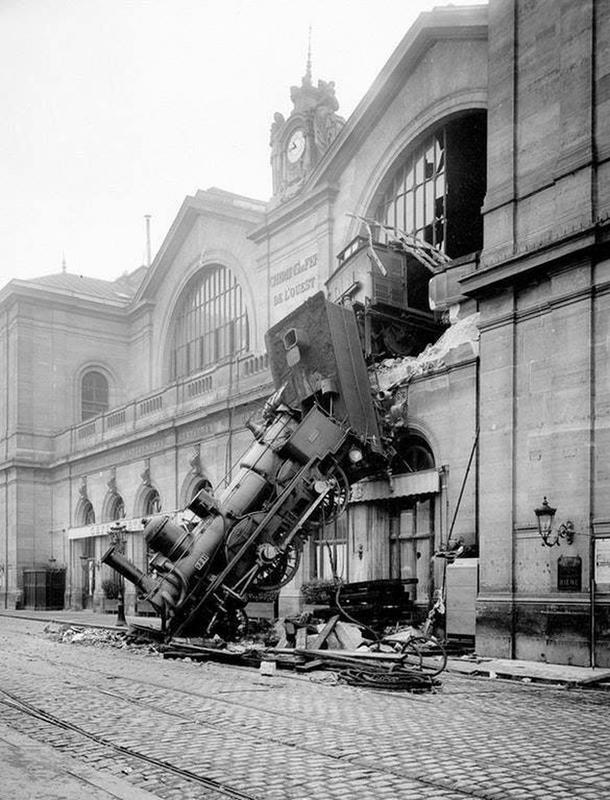 There is an old adage that says "haste makes waste."  "This rhyming warning, first record [sic] in this exact form in 1575, was in John Ray's 1678 proverb collection, where the full text was:  "Haste makes waste, and waste makes want, and want makes strife between the goodman and his wife."*
The phrase means that if you do things too quickly, mistakes will be made.  You will have poor results for your hurried actions.  Nobody knows that better than a train engineer from 1895.
It's October 22, 1895.  The Granville to Paris and Montparnasse express had left the Granville Station on time.  The steam locomotive was pulling "three luggage vans, a post van, and six passenger coaches" carrying 131 passengers.**
During the journey that began at 8:45 a.m., they had lost some time and were running several minutes behind as they approached the Montparnasse terminus.  As they approached the station, the engineer believed he could make up some of that time by going faster.
The concourse of the station was almost 100 feet long.  Failing to apply the Westinghouse brake, the train could not slow down.  The momentum caused it to crash through the buffer stops, travel across the concourse, smash through a 2-foot thick brick wall, and the engine nosedived into the pavement 33 feet below.  The coal car was suspended between the locomotive and the post van that was still on the tracks along with the rest of the cars.
Only one person died in the accident, Marie-Augustine Aguilard, who was filling in for her husband at their newsstand below where the train crashed through the wall.  She was killed by falling masonry.  Six others were injured.
The engineer of the train was investigated and found negligent.  He spent 2 months in prison and had to pay a fine of 50 francs.  In 1895, that would have equaled about $9.60.  To put that into perspective, that equates to around 147 hours of work.  Figuring in inflation, that would be equivalent to $290.00 for a person working minimum wage today. ***
While there are some things we should do quickly, we don't ever want to do things quickly that should happen slowly.  For instance, we are told in Ecclesiastes 7:9, "Be not hasty in thy spirit to be angry: for anger resteth in the bosom of fools."  The person with a quick, fiery temper is going to cause a LOT of train wrecks with his sharp tongue and hot actions.
Another example of haste making waste are statements like these.  "I said in my haste, All men are liars." (Psalms 116:11)  Sober reflection reminds us that all men are not liars.  But in our excitement and haste to get away from someone who harmed us, we make rash generalizations that are not true.  Proverbs 29:20 seems to echo this thought.  "Seest thou a man that is hasty in his words? there is more hope of a fool than of him."
Perhaps one of the most obvious examples of "haste makes waste" is found in another warning from Proverbs.  Proverbs 28:20 says, "A faithful man shall abound with blessings: but he that maketh haste to be rich shall not be innocent."  People will scheme in an attempt to get rich quick.  They will gamble away the family savings.  What is left is broken homes, dreams, finances, and lives.  What a waste, thinking that money would buy happiness.
Carefully read through the Scriptures.  Find the words "haste, hasty, and hasten."  Make a list of the things where haste is desired versus the things where haste should not occur.  Don't confuse your columns!  Keep the list straight and make haste ONLY on the things that won't make waste.
* https://idioms.thefreedictionary.com/haste+makes+waste
** https://en.wikipedia.org/wiki/Montparnasse_derailment
*** http://www.historicalstatistics.org/Currencyconverter.html