Aaargh!  Does anyone else have issues with ground moles in their yards?  If you don't, you can be thankful.  These little pests leave trails of heaved up soil all across the yard.  And I have plenty of trails!
The ground mole is a small little mammal with velvety fur, inconspicuous ears and eyes, a protruding snout, and large front paws with an extra thumb on each paw.  The rear paws are substantially smaller in size.
Home for the mole is underground and they live in burrows.  As they dig, they will cause the ground to heave up in a "hump" as they spread their tunnels chaotically through the yard.
Of all the mammals, God equipped them to survive with the least amount of oxygen.  In fact, they are able to re-breathe exhaled air and are unbothered by carbon dioxide.
Other underground pests will eat the roots of plants and crops.  Moles aren't interested in that.  Instead, they search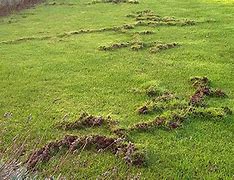 out grubs and earthworms.  The underground tunnels serve as a trap.  The mole "senses" when a worm or grub drops into their tunnel.  Running quickly through the tunnel, the mole will paralyze the invader with its toxic saliva and either eat it immediately or store it in an underground pantry called a "larder" for a future meal.  Scientists have found larders with over 1,000 worms in the moles "cupboard."
Eradicating the yard of these pests is quite a chore, one of which I've yet to accomplish.  Traps, poisons, high-grade nitrogen gas, and smoke are all recommended means of eliminating the moles.  There is even a solution of Castor Oil and Dawn dish soap that is supposed to be effective.  If you have the time to just stand in your yard, watching for the first bubble of dirt to appear, you can catch them in the act.  The moles in my yard are extremely intelligent and sense my presence.
Every once in a while, a cat digs one up but they will not eat ground moles.  "William Buckland, known for eating every animal he could, opined that mole meat tasted vile."1  My cats would agree.
It's typically the small things that cause the most damage.  Solomon said, "Take us the foxes, the little foxes, that spoil the vines: for our vines have tender grapes." (Song of Solomon 2:15)  Often times, we equate the little foxes – or little moles –  with little sins.  But is there really any such thing as a little sin?  Perhaps we would be better off to think of it as a little temptation to sin – something that seems mostly harmless or very subtle.
A man was walking down a hill in the woods when he stepped on a little twig. The twig rolled and he fell. As he got up and went on his way, he thought to himself "If that had been a big log, I would have seen it and climbed over. There would have been far less likelihood of my falling, for I would have been aware of the danger." The very fact that the twig was so small was what made it so dangerous.2
If the temptation roared like a lion, charged like an angry rhino, or was the size of an elephant, we would recognize it instantly and RUN!  However, it's just a cute little mole.  It's an adorable little fox.  Let's pet it.  Let's tame it.  Let's play with it.  Let's name it.  Let's keep it in our homes.
Jesus knows us best and He said very simply and succinctly, "Abstain from all appearance of evil." (1 Thessalonians 5:22)  If it looks iffy or has even a hint of that which Scripture forbids, get away from it.
If we practice this, there would be a lot of things removed from our lives.  The more things removed creates great openings for the things of the Lord to fill those empty spots.
Eradicating that which leads to temptation is a whole lot easier than eradicating pesky ground moles from your yard!
1https://en.wikipedia.org/wiki/Mole_(animal)
2 https://www.preceptaustin.org/little-foxes-and-sin