Have you ever wondered why it's called an "ice cream sundae?"  And have you ever wondered why it's "sundae" and not "Sunday?"  Keep reading if you're curious.
In the 1800s, there was something called "Blue Laws."  The Encyclopedia Britannica says, "Blue law[s] were laws forbidding certain secular activities on Sunday. The name may derive from Samuel A. Peters's [sic] General History of Connecticut (1781), which purported to list the stiff Sabbath regulations at New Haven, Connecticut; the work was printed on blue paper. A more probable derivation is based on an 18th-century usage of the word blue meaning "rigidly moral" in a disparaging sense. Strictest in Puritan, Bible-oriented communities, blue laws usually forbade regular work on Sunday, plus any buying, selling, traveling, public entertainment, or sports."1
One of the blue laws forbade the sale of "sucking sodas."  Evidently, it was deemed inappropriate to suck your soda through a straw on the Lord's Day.  It's hard for us to imagine in the 21st c. but there was a time when this was cutting-edge technology and the soda fountain was the hub of social gatherings.  The soda fountains were typically found in the pharmacy which was allowed to be open on Sunday.  This law curtailed the pharmacy's business.
In order to get around this, the pharmacy replaced the soda with chocolate sauce.  The use of spoons was still permitted on the Lord's Day.  The ice cream "Sunday" was sold on Sundays, making it something unique and special.
How did we get from Sunday to sundae?  According to the Farmer's Almanac, the name change is credited to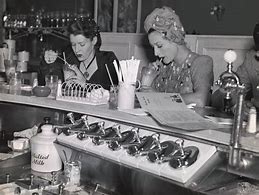 Evanston, Illinois in the 1890s to "pacify devout Christians who didn't appreciate the use of "Sunday" in this manner and to encourage people to eat the ice cream treats any day, not just Sundays."2
When I first read this, my eyes rolled and I said, "Oh, brother!  You've got to be kidding!"  But, as fast as I reacted, the Holy Spirit was just as fast to check my attitude and spirit.  The Spirit reminded me of this passage.
Romans 14:1-6 says, "Him that is weak in the faith receive ye, but not to doubtful disputations.  (2)  For one believeth that he may eat all things: another, who is weak, eateth herbs.  (3)  Let not him that eateth despise him that eateth not; and let not him which eateth not judge him that eateth: for God hath received him.  (4)  Who art thou that judgest another man's servant? to his own master he standeth or falleth. Yea, he shall be holden up: for God is able to make him stand.  (5)  One man esteemeth one day above another: another esteemeth every day alike. Let every man be fully persuaded in his own mind.  (6)  He that regardeth the day, regardeth it unto the Lord; and he that regardeth not the day, to the Lord he doth not regard it. He that eateth, eateth to the Lord, for he giveth God thanks; and he that eateth not, to the Lord he eateth not, and giveth God thanks."
Some Christians really get on their high horse, talking about the love of God and their Christian liberty, all in the same sentence.  However, having real God-given love does not mean that we rub someone's nose in our liberty.  Instead, we exercise our Christian liberty cautiously and consciously, considering others.
Let me be clear.  I am not talking about things that are sinful or have the appearance of sinfulness.  Those things are off-limits instantly and completely.  Paul is talking about those things that cause another believer to stumble because they perceive it as being sinful or beneath what a Christian ought to do.  Eating meat is not an issue for us in America.  However, if I was going to be a witness in a Hindu nation, I would not want to eat a steak or cheeseburger.  It would immediately destroy my witness.
In 1 Corinthians 8:12-13, Paul says, "But when ye sin so against the brethren, and wound their weak conscience, ye sin against Christ."  Yes, exercising our liberty loosely and carelessly is sin.  Then, Paul says, "Wherefore, if meat make my brother to offend, I will eat no flesh while the world standeth, lest I make my brother to offend."  To keep this in line with the story, we could say, "Wherefore, if my ice cream makes my brother to offend, I will eat no ice cream while the world standeth!"  Oh, that's painful for me to type!!  But, if it came down to that, we have to be willing.
Let's learn to be conscientious about each other.  We want to help other believers to grow in the Lord.  We definitely don't want to do anything to hinder or stagnate their growth.
Now that you have finished today's devotional, you may reward yourself with an ice cream sundae of your own design – even if you are reading this in the early morning hours.  I won't judge.  It'll be our secret!  In fact, maybe I'll join you!
1https://www.britannica.com/print/article/70275
2https://www.grunge.com/401671/the-weird-reason-ice-cream-sundaes-got-started/