I love Amish country and places like Shipshewana.  The sights, smells, and culture are incredibly soothing to me.   There's just something about crossing in to that region of Indiana that seems very special.  Perhaps it's the simplicity.  Maybe it's the comfort of time standing still in a world that hurtles forward.  Whatever it is, I know that I enjoy being there and I never tire of it.
Watching the Amish work with their teams of horses is interesting.  Those beautiful Belgian draft horses are amazing animals.  They are bred for work.  Weighing in at 2000 pounds, a single horse can pull 6000-8000 lbs. and easily work eight to ten-hour days on a daily basis.  They are "fueled" with a good supply of hay and grain.  These horses are used for ploughing, logging, pulling sleighs, hitches, and carriages.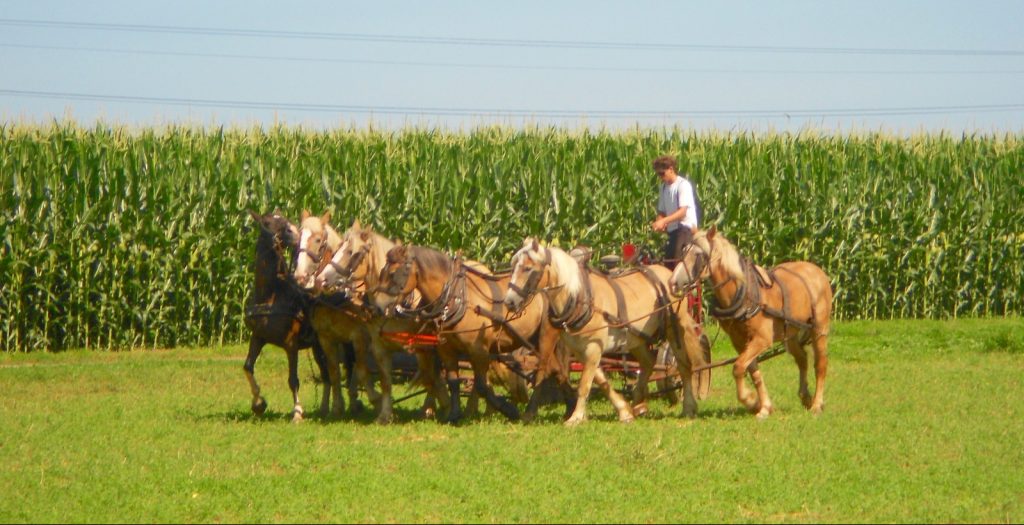 Last year when our farmers were experiencing the trials of farming during all the periods of rain and many the crops looked sickly, the Amish fields were beautiful.  Some of our local farmers explained that it's because the heavy "Englisher's" equipment sinks in while their teams of horses and planting equipment do not.  Therefore, the Amish were able to get their crops planted and they didn't suffer during the rainy season.
Today, we are ready for Galatians 5:22-23 which says, "But, the fruit of the Spirit is…meekness…"  What exactly is meekness?
Those draft horses are strong.  With such power, they could easily wreak havoc and do a lot of damage.  However, one website describes the temperament of these horses as "calm, docile, kind, willing, steady and easy to handle."  We could say that those horses are meek. 
We tend to believe that meekness equals weakness.  However, that is the farthest from the truth.  One pastor describes it this way.  "A horse hasn't lost its strength when it gets harnessed, it has gained usefulness, and not lost one ounce of strength. When we choose to direct our power to be constructive rather than destructive, that does not display weakness but meekness – controlled strength."
In 2 Corinthians 10:1, we read, "Now I Paul myself beseech you by the meekness and gentleness of Christ…"  Was Jesus a weakling and wimpy?  There are those who portray Him that way.  The unrepentant thief on the cross must have felt that way when he said "… If thou be Christ, save thyself and us." (Luke 23:39) And, the chief priests mocked Jesus and said in Matthew 27:42, "He saved others; himself he cannot save. If he be the King of Israel, let him now come down from the cross, and we will believe him."
We know that Jesus had every right to defend Himself.  He was unjustly accused.  And, He certainly had the power and ability to speak into existence the destruction of His detractors.  However, Jesus was the perfect example of controlled strength.  He even controlled His tongue.  "But Jesus yet answered nothing; so that Pilate marveled."  (Mark 15:5)
As Christians, there may be times where we would defend our actions by saying, "I have my rights."  Having rights doesn't justify the exercise of those rights.  The fruit of meekness must rule our lives.
Titus 3:2 reminds us, "To speak evil of no man, to be no brawlers, but gentle, shewing all meekness unto all men."  The Scriptures say nothing about anyone deserving meekness.  Instead, meekness is to be demonstrated to everyone from the life of the Christian.
Meekness is never weakness.  It is strength under God's control.   Godly Christian character welcomes the Spirit's bridle, reining in the power of the horse and bringing it under God's control.