Chicago rock-n-roll radio DJs Steve Dahl and Garry Meier had a brainstorm to eradicate a genre of music that had infiltrated their radio station:  disco.  For those who grew up in the 70s, you remember your fair share of disco tunes that took our nation by storm.   The DJs had all they could take and they launched a vendetta aimed at "the eradication and elimination of the dreaded musical disease."1
Disco took the rebellious and sexualized rock music to a whole new level.  The dance styles were purposefully intended to be erotic and sensual.  The discotheque clubs were known for the drug subculture and sexual liberation, including a venue for the expression and acceptance of homosexuality.  Many clubs were known as much for what happened on the dance floor as they were known for what happened in back rooms, stairwells, balconies, and bathrooms.2
Discussing the immorality of it all is something for another devotional.  Let's return to the DJs vendetta.  They had an idea to declare July 12, 1979 as "Disco Demolition Night" at a Chicago Cubs/Detroit Tigers game.   To boost attendance and entertain the crowd, you could get a 98-cent ticket provided you brought a disco album which would be placed in an explosive-rigged dumpster.  During the pre-game warm-ups, disco would get blown up.  Sounds like fun, huh?
Organizers for the event failed to take three things into account.  First, there was a lot of people who loved baseball
and hated disco.   On average, about 15,000 fans attended the games.  This event drew a sell-out crowd of over 40,000 with another 40,000 gathered around Comiskey Park.  Organizers were not prepared for this kind of turnout.
Second, shards of hot vinyl projectiles flying out of a dumpster was under-calculated.  When the overloaded dumpster exploded, vinyl flew into the crowd.
Third, fans only turned over some of their albums when entering the park.  The rowdy crowd evidently had other plans for the night.  The explosion turned a baseball crowd into a riotous mob.  They started throwing their albums like buzz saws flying through the air.  "Utter chaos [erupted] as fans by the thousands stormed the field and began to wreak havoc, shimmying up the foul poles, tearing up the grass and lighting vinyl bonfires on the diamond while the stadium scoreboard implored them to return to their seats. Conditions were judged too dangerous for the scheduled game to begin, and the Detroit Tigers were awarded a win by forfeit."3
Isn't it amazing how one thing can become a catalyst, setting in motion a chain reaction?  The Bible is loaded with such examples.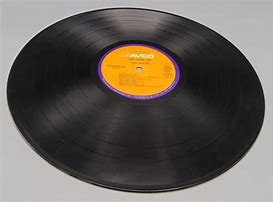 The original example is of Eve listening to the blasphemous babblings of the serpent.  She entertains Satan's lies and before you know it, she has eaten of the fruit, Adam has eaten of the fruit, and "as by one man sin entered into the world, and death by sin; and so death passed upon all men, for that all have sinned." (Romans 5:12)
Another example is of Abram and Sarai.  God had promised to give them a family and a nation.  However, sexual relations with Sarai's handmaid, Hagar, resulted in this.  "And Hagar bare Abram a son: and Abram called his son's name, which Hagar bare, Ishmael."  (Genesis 16:15)  Mohammad, the "father of Islam", claimed that he was a "direct descendant of Ishmael."  Therefore, Abram's impatience to wait on God brought about the Islamic religion that has been fighting against Israel for centuries.
Actions have repercussions.  We have to be extremely careful and prayerful before taking any kind of action.  Even seemingly innocuous decisions can have far reaching and long-lasting consequences.
Those consequences may be far worse than the actions of a bunch of disco hating baseball fans.
1https://www.history.com/this-day-in-history/disco-is-dealt-death-blow-by-fans-of-the-chicago-white-sox
2Richard Dyer: "In Defense of Disco." In: Gay Left, 8, Summer 1979, pp. 20-23. Reprinted in: Mark J. Butler (ed): Electronica, Dance and Club Music. New York/London: Routledge 2017, pp. 121-127.
3https://www.history.com/this-day-in-history/disco-is-dealt-death-blow-by-fans-of-the-chicago-white-sox