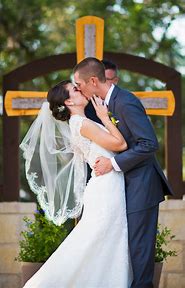 Now, this is funny.  The National Day Calendar says that today is both National Onion Rings Day and National Kissing Day, two celebrations that probably should not be celebrated simultaneously!  Let's pucker up and consider the kiss.
Immediately, we probably think of the kiss as a display of intimacy and would argue that it should only be between husband and wife.  If that's all the kiss was, I would completely agree.  And, I do agree that those sloppy, sweet smooches should be kept for your spouse.  However, there are different forms of kisses that conveyed different things through the years.  Turning to the Scriptures, we see these forms and can see them used in history.
The very first kiss recorded in the Bible wasn't between Adam and Eve.  Genesis 27:26 says, "And his father Isaac said unto him, Come near now, and kiss me, my son."  It was a kiss of parental love and respect.  While most in our culture might feel a bit uncomfortable kissing their adult child, smothering that little one with kisses until they were giggling was a great bonding exercise between parent and child.
Next, we see Joseph kissing his brothers.  Genesis 45:15 says, "Moreover he kissed all his brethren, and wept upon them: and after that his brethren talked with him."  This is foreign to me since I was an only child.  But is it still "normal" for brothers and sisters to kiss each other?  I can't think of any family members that I've seen doing this, especially not in American culture.  Usually, it's a punch in the arm that says "I love you."  If you do kiss, though, there's certainly nothing wrong with it.
Here's another cultural kiss.  Ruth 1:14 says, "And they lifted up their voice, and wept again: and Orpah kissed her mother in law; but Ruth clave unto her."  The in-law kiss.  Do you kiss your in-laws?  I never did and I think it would have been weird.  Once again, though, there's nothing wrong with it.  It seems that familial kisses are all very normal and cultural and if that is the culture of your family, well – kiss away!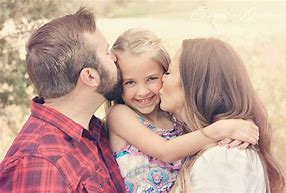 If you go back and read the June 17th devotional, you will know that this next kiss really disturbs me.  Oh, I'm not saying it was wrong or sinful.  Not in the least.  It just triggers my gag reflex.  "And, behold, a woman in the city, which was a sinner, when she knew that Jesus sat at meat in the Pharisee's house, brought an alabaster box of ointment,  (38)  And stood at his feet behind him weeping, and began to wash his feet with tears, and did wipe them with the hairs of her head, and kissed his feet, and anointed them with the ointment." (Luke 7:37-38)  Kissing feet was a sign of humility, obeisance, and love.  Throughout history, you will see other times where this expression was made.  But, KISSING feet?!?  Couldn't we find some other gesture that would convey the same thing?!?
Another kiss would just about push people over the edge if it was done this Sunday.  2 Corinthians 13:12 says, "Greet one another with an holy kiss."  Many cultures throughout the world still practice this and there's nothing wrong with it.  American culture, though, would not receive it very well.  There are some folks that just about faint if they have to shake someone's hand.  They can't hand sanitize quick enough.  What would they do if they were kissed?!?  What if it was the Greek style of kiss on both cheeks?!?  Some are getting ready to pass out just thinking about it.
The final kiss we want to consider is the most memorable, despicable, and saddest of all the kisses in the Bible.  It was the kiss of betrayal.  Luke 22:48 says, "But Jesus said unto him, Judas, betrayest thou the Son of man with a kiss?"
It seems that the kiss is a universal sign of greeting, friendship, humility, love, and even betrayal.  Obviously, God created those lips for more than just holding the food back as we chew or taking those ridiculous duck faced selfies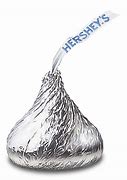 (read yesterday's devotional).
So, pucker up and plant the proper kiss for the occasion.
FUN FACT:  the little piece of paper in the Hershey's kiss is called the plume – not the "niggly wiggly" as some web sites suggest.  This is per the experts at the Hershey company and they ought to know!