Several weeks ago, "Let Them Play" rallies were being held in many states, specifically in Michigan and Virginia.  The pandemic has quashed the athletic programs in many schools, hurting rising athletes from achieving necessary college scholarships and recruitment and robbing schools of something vital to the school's morale.
I am not an athlete.  Never was and fairly certain never will.  When I was in school, band and choir were my thing, as well as academics.  I believe school should be primarily about academics, followed by various forms of art and performing arts, and finished up with athletics.  Let's face it, an incredibly small percentage of athletes will ever make it "big" and if they do, how long will their body hold out?  However, academics will be necessary your whole life and you can use your artistic abilities in a variety of ways.
On the other hand, how much morale do academics and the arts generate in a school?  Not much!  Oh, I know, I just insulted someone and I apologize for that.  It was not my attempt.  Remember, though, I'm writing this from a non-athlete's perspective.  One year of track in eighth-grade was enough for me!  But, just think about the sports program at the school, the rallies, the hype, the games, and the cheering crowds.  The fierce competition lights a fire of energy in a school that just can't be beat.
Rivalries between schools is not built or fueled by academics and arts.  It's fueled by sports.  Nobody ever said, "Let's rally around our band.  Let's rally around our academic team.  Let's rally around our baton twirlers."  It even sounds strange to write this.  However, we rally around our team.  We rally around the troops, those who go out to the "fight."
I was a part of the Big Brass Machine back in the day and was (and still am) incredibly proud of it.  But the energy in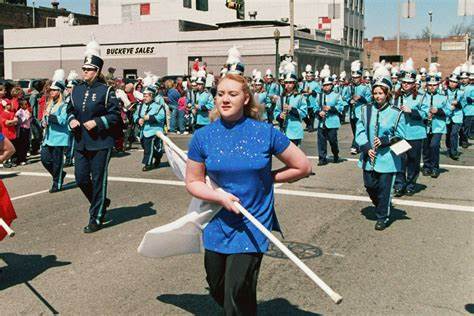 the school came from the basketball, baseball, volleyball, wrestling, track and cross-country teams.  Basketball had cheerleaders.  The other sports had fans.  The band had a few parents who faithfully went to every parade or rode the bus.  There weren't many.  And none of our parents had a button on their coat with our picture.
I agree.  "Let them play!"  Athletics is important – not only to the morale of the school but also to the Christian.
The Apostle Paul must have been an athlete or someone who really loved sports.  Writing under the inspiration of God, Paul used several athletic metaphors in his writing.
In 1 Corinthians 9:24, he spoke of the Christian life as that of running a race, a common metaphor for Paul.  "Know ye not that they which run in a race run all, but one receiveth the prize? So run, that ye may obtain."  In the same verse as well as verse 25, he spoke of winning the prize.  Paul says that this was a crown.
A boxing metaphor is used in 1 Corinthians 9:26-27.  "I therefore so run, not as uncertainly; so fight I, not as one that beateth the air:  (27)  But I keep under my body (literally, to give a black eye), and bring it into subjection: lest that by any means, when I have preached to others, I myself should be a castaway."
Paul mixes his metaphors, using all three in 2 Timothy 4:7-8.  "I have fought a good fight, I have finished my course, I have kept the faith:  (8)  Henceforth there is laid up for me a crown of righteousness, which the Lord, the righteous judge, shall give me at that day: and not to me only, but unto all them also that love his appearing."
It would be safe to say that Paul had a spiritual athlete's physique.  How did he get it?  Here are a couple of more athletic analogies.
In 1 Timothy 4:8, we read, "For bodily exercise profiteth little: but godliness is profitable unto all things, having promise of the life that now is, and of that which is to come."  Don't get excited and say that Paul told you not to exercise.  He simply said that it has little profit in comparison to Godly exercise.  Now, here's where things get interesting.
The Greek word for "exercise" is gumnazo from which we get the word gymnasium.  In the Greek culture, gyms were not co-ed.  Men only exercised in the gyms for one important reason.  They did it au naturel!  Clothing was totally discarded so that nothing might interfere with their workout.  Now that's some serious athletes!
Christians, if we want to become spiritual buff, we must shed all that gets in the way.  Besetting sin, unnecessary distractions, and so much more keep us snacking on the world's junk food rather than eat a good Biblical diet and exercising our faith.  It's time that we make a serious lifestyle change!
Let them play!  But, first, get in shape!  Be one of God's finest, fittest athletes, fighting the good fight of faith!