Today begins a new set of devotions but we are continuing our devotional series, looking at some theology found on church signs.  Sometimes, those short and pithy marquee messages pack a wallop!  They are "punny" yet potent.  A few signs even convey a wrong message which becomes a message in itself.   This opening paragraph and little disclaimer will accompany each devotional:  The use of the church sign's message in no wise constitutes an endorsement of the church or denomination.  With that in mind…
"Christians, live your lives so non-believers will question their disbelief in God."  Wow!  What a way to live!  Matthew 5:16 says, "Let your light so shine before men [this speaks specifically of the lost], that they may see your good works, and glorify your Father which is in heaven."  Can you imagine living such a powerful witness that it causes the atheist, agnostic, or unbeliever to consider that they just might be wrong?  Doing this is going to require a lot from us.
"Even if you have pains, you don't have to be one."  Unfortunately, the lost world makes a fair accusation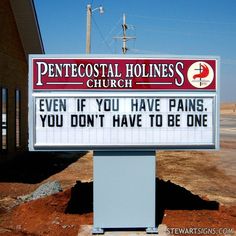 against Christianity.  Many who profess salvation are just flat out jerks!  That sounds harsh to put it that way but it's true.  Demanding, rude, acting superior, expecting discounts and special treatment – all things we've seen other Christians do.  Worse yet is when they "throw a switch" and go from being nasty to using their churchy vocabulary – and they can do this in a split second!
Paul reminded the believers in Rome, "For I say, through the grace given unto me, to every man that is among you, not to think of himself more highly than he ought to think; but to think soberly, according as God hath dealt to every man the measure of faith." (Romans 12:3)
The world should see the Christians as the most gracious people around.  In the Sermon on the Mount, Jesus' instructions included turning the other cheek, going the extra mile, and giving the shirt off your back.  The world has the right to expect that out of us and we have to deliver the goods!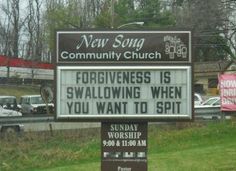 "Forgiveness is swallowing when you want to spit."  This sign cracked me up!  The flesh finds forgiveness to be difficult.  The greater the offense, the harder it is to forgive.  Does God give us an option?  Luke 6:37 says, "…forgive, and ye shall be forgiven."  The doesn't sound "optional."
Many Christians will point to some severe offense committed against them and say, "I can't forgive."  Honesty would say, "I won't forgive."  God wouldn't tell us to do the impossible if He wasn't going to enable us to accomplish it.  And, forgiveness is something we can accomplish through Christ.
Ephesians 4:32 reminds us, "And be ye kind one to another, tenderhearted, forgiving one another, even as God for Christ's sake hath forgiven you."  God, the One who told us to forgive, is the One who demonstrated the greatest act of forgiveness.
Now, consider this final sign.
"Some people should use glue stick instead of chap stick."  Amen to that!  So often, it is our mouth that
gets us into the most trouble, creating the need to forgive or to be forgiven.  If our lips would have been glued together to begin with, the issue wouldn't have been created.
As the old saying goes, "Don't give someone a piece of your mind that you really can't spare."  In other words, keep it to yourself.
Our witness as Christians is often obscured by our actions and words.  The world doesn't need any more obstacles to keep them away from Jesus.  Let's be sure not to give them a clear picture of what it means to be a believer.  Live a credible witness for the Lord.