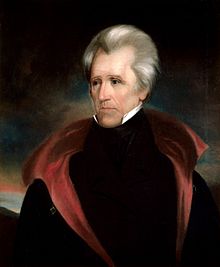 I know what they were doing in the White House 192 years ago today.  They were cleaning carpets and upholstery from the day before!
Andrew Jackson had just been sworn in as the 7th President of the United States on March 4, 1829.  Sometimes, we have on rose colored glasses when we talk about the past.  However, the election season would have fit in great with modern America.
Personal, insulting attacks were leveled at Jackson and his opponent, John Quincy Adams.  A series of pamphlets called The Coffin Handbills spread mostly false and altered truths.  The attacks against Jackson were deeply troubling.  He was accused of murdering his own soldiers when he was a General at the Battle of New Orleans.  Accusations of racism were hurled against him.  He was also accused of cannibalism.
Even his parentage was attacked.  Supporters of the Adams campaign labeled Jackson's mom as a common prostitute and his dad as a "mulatto man," a derogatory term meaning the first offspring of a black person and a white person.
The accusations of bigamy and adultery were technically true.  Jackson's wife, Rachel, was divorced from a man who had been especially abusive and brutal to her in 1790.  In 1791, Andrew and Rachel married.  Two years later, they found out that the divorce had not been granted until 1793.  In January 1794, Rachel and Andrew were married …again.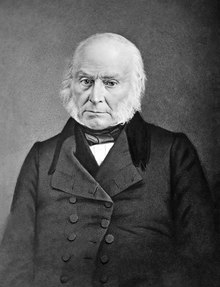 Almost 30 years later when Jackson began running for the presidency, John Adams used this information to smear the character of Jackson.  The attacks were so brutal against Mrs. Jackson that she began having physical problems.  Three weeks after Jackson's election and ten weeks before his inauguration, Rachel Jackson died of a massive heart attack.  Jackson remained bitter and angry against his opponent and campaign, blaming them for the stress leading to her death.
Fast-forward the clock to Jackson's inauguration day.  After being sworn in, it was customary to open the White House and welcome in the public for a reception.  This tradition had been started by Thomas Jefferson.  The crowd on this day lost their minds!
Over 20,000 celebrities, citizens, and politicians swarmed the White House.  Manners went right out the window as people searched for the President, opening doors and entering closed rooms.  In the process, dishes and crystal were broken, food was ground into the carpets, and people stood on the upholstered furniture in their muddy shoes.  The servants charged with cleaning the White House said that the carpeting smelled of cheese for months after the party.
Again, here we go with those rose-colored glasses.  Don't we typically assume that this was an era of gentility, decorum, and etiquette?  While we wouldn't like it, we would expect this kind of behavior today.  Just look at the Capitol riots on January 6th.  As horrifying as it was, we weren't overly surprised by the baboon-ish behavior because we've been witnessing this decline in our culture for a while.
Good manners reflect good breeding, upbringing, and understanding of our place and position in life.  It shows that we understand respect.  As a child of God, we should excel at this because we are born into the family God, viewed as royalty in God's court, yet humbled by grace and mercy towards others.  Just consider these verses:
Leviticus 19:32– Thou shalt rise up before the hoary head, and honour the face of the old man, and fear thy God: I [am] the LORD.
Matthew 15:1, 4– Then came to Jesus scribes and Pharisees, which were of Jerusalem, saying… Honour thy father and mother: and, He that curseth father or mother, let him die the death.
Luke 6:37 – Judge not, and ye shall not be judged: condemn not, and ye shall not be condemned: forgive, and ye shall be forgiven.
Romans 14:16– Let not then your good be evil spoken of.
1 Corinthians 10:23– … all things are lawful for me, but all things edify not.
1 Corinthians 14:40– Let all things be done decently and in order.
Philippians 4:5– Let your moderation be known unto all men. The Lord [is] at hand.
Colossians 3:12– Put on therefore, as the elect of God, holy and beloved, bowels of mercies, kindness, humbleness of mind, meekness, longsuffering;
Colossians 4:5– Walk in wisdom toward them that are without, redeeming the time.
1 Timothy 2:1– I exhort therefore, that, first of all, supplications, prayers, intercessions, [and] giving of thanks, be made for all men.
We know that these verses are speaking of much more than just manners.  But their impact is delivered by Christian
kindness and civility, exercised with good manners.
The unfortunate display of political smear campaigns, attacking the character and families of those running for office, and the dishonoring of the Capitol, churches, the property of others, and people in general is a sad reminder of how far our nation has drifted from being a "Christian nation."
Wherever we are today, whomever we are around, SHOW them the difference Jesus has made in even the basic, mundane manners that make us caring and compassionate people.
https://en.wikipedia.org/wiki/Coffin_Handbills
https://en.wikipedia.org/wiki/Andrew_Jackson#Family
https://www.history.com/this-day-in-history/jackson-holds-open-house-at-the-white-house