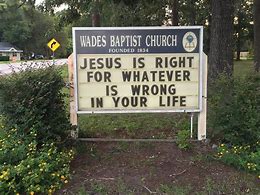 Every once in a while, I see some great theology on church signs.  There were a couple in our community last month that really stuck out to me.  The one had a grammatical error that actually reinforced the message.  The other was a play on words that drove home an impressive point.  Let's consider them in that order.
"Take your sins to the alter and drop 'em like they're hot."  Do you see the error.  "Alter" means "to make or become different."1  A dress might be altered.  Dress pants might get altered.  Something changes and is made different when alterations take place.
The word on the sign should have been "altar."  An altar is a place and it is a noun.  Alter is a verb and it's something you do.  You can't take your sins to a verb but you can take them to a noun.  Just a bit of grammar to grease the wheels of your day.
A lot of times, people take their sins to an altar and nothing changes.  They don't "drop 'em like they're hot."  Instead, they pick them up and carry them right back to their seat.  However, when there is sin in our life, we need to be altered.  Proverbs 28:13 says, "He that covereth his sins shall not prosper: but whoso confesseth and forsaketh them shall have mercy."  Forsaking the sin is an alteration in our mindset toward the sin as well as an alteration in our behavior.
The sign could read, "Take your sins to the altar, drop 'em like they're hot, and be
altered."   Doesn't have a good flow, does it?  Well, the other sign had a great message as well.
"Jesus paid the price.  You get to keep the change."  Let that soak in for a moment.  A fast reading of the sign left me thinking and briefly confused.  My brain said that change is pennies, nickels, dimes, and quarters.  In a flash, though, I got the deep meaning.  Jesus paid the price in His blood for my salvation.  I get to keep the change – the radical change the Lord made in me and the change He continues to give every day of my salvation.
2 Corinthians 5:17 says, "Therefore if any man be in Christ, he is a new creature: old things are passed away; behold, all things are become new."  That's the change we get to keep.  And the change keeps coming.  "Behold, I shew you a mystery; We shall not all sleep, but we shall all be changed,  (52)  In a moment, in the twinkling of an eye, at the last trump: for the trumpet shall sound, and the dead shall be raised incorruptible, and we shall be changed." (1 Corinthians 15:51-52)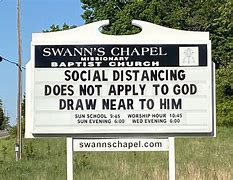 When we came to Jesus for salvation, we had nothing to offer either in payment or trade.  We were spiritually bankrupt.  The Lord showed us His nail-scarred hands and feet and said, "I've already paid the price in full."  We gave Him nothing and He gave us everything.
These signs teach us invaluable lessons in very short sentences.  Easy to learn.  Easy to memorize.  Put them into practice.   Maybe the first church didn't make a grammatical mistake.  Perhaps they were hoping people would see the lesson in the message that I saw.
Message received!
1https://www.merriam-webster.com/dictionary/alter