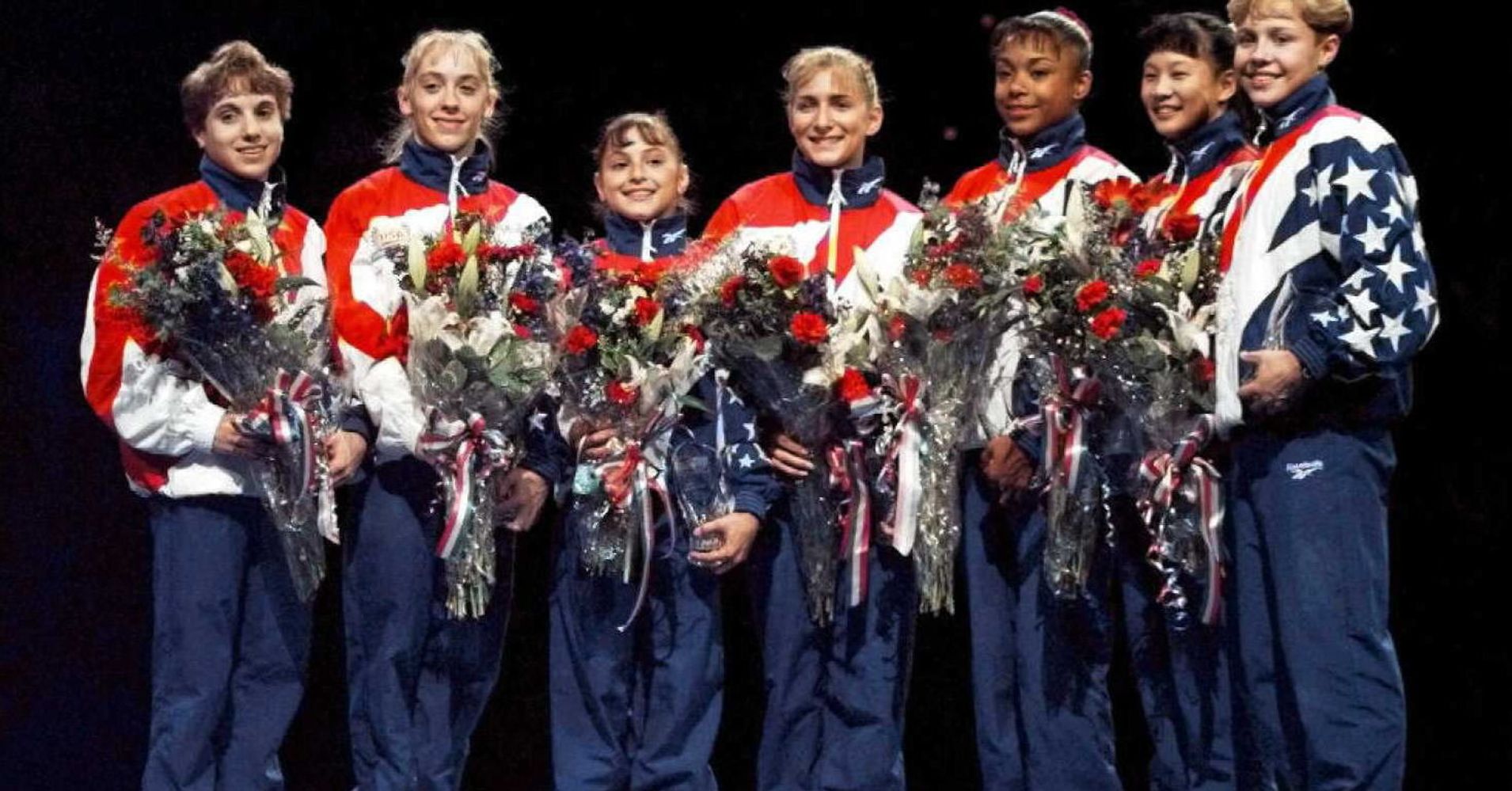 Another story finds its way to us today from Olympics history.  There was a group in 1996 called The Magnificent Seven.  No, they weren't a ragtag band of cowboy mercenaries led by Yul Brenner.  Instead, they were a group of young gymnasts coached by Béla Károlyi.  This team of seven won the first ever gold medal in Women's Team Competition Gymnastics for the USA.
While this should have been sufficient reason to celebrate, other stories seemed to take center stage.
Kerri Allyson Strug had injured her ankle during a vault.  "Károlyi said, "Kerri, we need you to go one more time. We need you one more time for the gold. You can do it, you better do it."  Strug thus limped slightly to the end of the runway to make her second attempt. She landed the vault briefly on both feet, almost instantly hopping onto only her good foot, saluting the judges. She then collapsed onto her knees and needed assistance off the landing platform, to which sportscaster John Tesh commented, "Kerri Strug is hurt! She is hurt badly…"
"The rest of the Magnificent Seven refused to walk out to the medal ceremony without Strug, and eventually Béla Károlyi carried her onto the medals podium to join her team, after which she was treated at a hospital for a third-degree lateral sprain and tendon damage. Due to her injury, she was unable to compete in the individual all-around competition and event finals, despite having qualified for both."1
All eyes were now on 14-year-old Dominique Moceanu, the youngest and smallest on the team.  She took Kerri's place in one of the events.  Competing with a stress fracture to the right tibia, her leg was heavily bandaged.  Desiring to go on and pushed by her dad and coach in spite of the injuries, Moceanu competed.  However, multiple falls and one where she landed on her head during a vault caused her to place dismally in the standings.  Upon falling, her dad yelled at her in front of everyone.
Once Atlanta was finished, Károlyi abruptly dropped Moceanu as a student.  In her book Off Balance, Moceanu recounts the verbal and emotional abuse she endured by the coach and her father.  Physical abuse was in the form of the coach allowing players to eat only 900 calories in order to maintain their physique.  This led to eating disorders among many gymnasts.  Moceanu's dad seemed to mirror the coach's "motivational methods," driving his own daughter to experience success at all costs.
On March 28th, 2017, Moceanu and a number of others testified before the Senate Judiciary Committee concerning abuses that routinely take place within gymnastics.  Her participation was spurred by the allegations brought against Larry Nassar, "the national gymnastics team doctor who was convicted of sexual assault of minors [and] was assaulting young female gymnasts in their care at their Karolyi Ranch training facility in Texas.2
Finally, Moceanu filed for emancipation from her parents while she was 17.  "She accused her parents of abuse and exploitation and alleged they had used US$4,000,000 of her earnings to build a 70,000 square foot gymnastics training center in Spring, Texas."3  The emancipation was granted.
As I read these stories and the things that these gymnasts experienced, I couldn't help but wonder how many other parents do this to their children.  Where was the parental instinct that desires to protect the child rather than subjecting them to brutal coaching practices?  Is a gold medal really what's most important in life?
This makes me think of Matthew 18:3-6.  "And said, Verily I say unto you, Except ye be converted, and become as little children, ye shall not enter into the kingdom of heaven.  (4)  Whosoever therefore shall humble himself as this little child, the same is greatest in the kingdom of heaven.  (5)  And whoso shall receive one such little child in my name receiveth me.  (6)  But whoso shall offend one of these little ones which believe in me, it were better for him that a millstone were hanged about his neck, and that he were drowned in the depth of the sea."
These gymnasts were once "little ones" being driven to practices, having to spend hours of their lives every day practicing gymnastics.  The parental pride pushed for perfection, making constant improvements and advancements.  Nothing else matters.  Eyes on the prize!
And while the impressionable years of childhood are consumed by a parent living vicariously through their child, where was the spiritual training?  When was the last time that you heard of such young dedication to things of the Lord or a parent pushing the child in that direction?
A childhood lost to the things of the Lord is dangerous ground to those who stole it!
1https://en.wikipedia.org/wiki/Kerri_Strug
2https://en.wikipedia.org/wiki/B%C3%A9la_K%C3%A1rolyi
3 https://en.wikipedia.org/wiki/Dominique_Moceanu
Gymnastics1, strug, dominique