Today is a day chosen to honor one of the oldest professions known to man – perhaps the oldest profession.  This day has been celebrated since the 1800s.  The date was chosen because it coincides with the harvest season.  Every October 12th in the USA is known as National Farmer Day.
Adam was the early farmer as he was given these instructions that predated the fall.  "And the LORD God took the man, and put him into the garden of Eden to dress it and to keep it." (Genesis 2:15)  What that might have entailed in a world void of the curse is anyone's guess.
Farming became difficult after Adam's fall and the curse was placed by God upon the world.  Genesis 3:17-18 says, "And unto Adam he said, Because thou hast hearkened unto the voice of thy wife, and hast eaten of the tree, of which I commanded thee, saying, Thou shalt not eat of it: cursed is the ground for thy sake; in sorrow shalt thou eat of it all the days of thy life;  (18)  Thorns also and thistles shall it bring forth to thee; and thou shalt eat the herb of the field."  Every farmer knows that they are going to have to hoe weeds and spray herbicides to keep the thorns and thistles in check.
Then, we have Cain.  Genesis 4:1-2 says, "And Adam knew Eve his wife; and she conceived, and bare Cain, and said, I have gotten a man from the LORD.  (2)  And she again bare his brother Abel. And Abel was a keeper of sheep, but Cain was a tiller of the ground."  From here, the long list of Biblical farmers grows.
Throughout history, farming has been a necessary and noble profession.  Consider these statistics I found concerning our farmers:
2 million – the number of farms in the U.S.
$1 trillion – The contribution of agriculture to the US economy.
3% – The percentage of the U.S. labor force made up by ranchers.
90% – The percentage of U.S. crop losses caused by extreme weather
50,000 – The number of jobs available in agriculture in the U.S each year.
40% – The percentage of crop cash that is generated by corn and soybeans.
166 – The number of people the average U.S farm feeds each year.
25% – The percentage of food that Americans throw away every month.1
2% – The percentage of Americans who feed the other 98% – including themselves.
1% – The percentage of family farms in America, not corporate farms. 2
One acre of landcan grow a variety of crops, including 50,000 pounds of strawberries or 2,784 pounds (46.4 bushels) of wheat.
One day's production for a high-producing dairy cow yields 8 pounds of butter, 8.7 gallons of ice cream or 10.5 pounds of cheese.3
Now, consider these final two points.
Americans throw away about 25%of the food they purchase for at-home consumption.
A whopping 40%of all food grown and produced in the U.S. is never eaten.4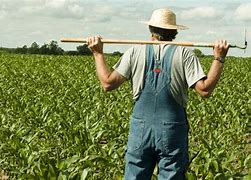 Farming is extremely hard work.  However, it is rewarding to the farmer.  How insulting must it be to the farmer to see these final statistics and to realize how wasteful of a society we've become?
Thank a farmer today for their work and the way they've provided food for your table.  And show that gratitude by cleaning your plate and not wasting food.
1https://nationaltoday.com/national-farmers-day/
2https://www.almanac.com/national-farmers-day
3https://www.fb.org/newsroom/fast-facts
4Ibid.